The healthcare landscape continues to evolve at a rapid pace. Daily, there are alliances forming, healthcare systems merging, shortages in various specialties and newly minted physicians seeking a better work/life balance. It appears you are swirling in a sea of uncertainty, and from time to time, you may be. Regardless of our experience and seniority, I encourage you to lean in on your ability to build new relationships, leverage technology and resources, gain efficiencies through partnerships and mentor our up-and-coming leaders of the future.
The Annual Chapter Breakfast was very well attended this year. It was wonderful to see so many of our military members in attendance and to hear our keynote speaker, COL Mary V. Krueger, Hospital Commander, Tripler Army Medical Center, share her perspective on the "Military Healthcare Transformation." COL Krueger spoke about the military's approach to healthcare – the "Quadruple Aim: Improved Readiness, Better Health, Better Care and Lower Cost." What resonated the most is that all healthcare systems - big or small, local, national or international - are all dealing with the same issues: healthcare is changing, and we need to be prepared and ready for the change with it.
At the Annual Breakfast, I had the distinct privilege to recognize two of our members for their excellence as healthcare leaders. The Regent Awards for 2019 were presented to an "Early Career Healthcare Executive" and a "Senior Healthcare Executive," who have both demonstrated leadership, executive presence, commitment to their profession and the list goes on...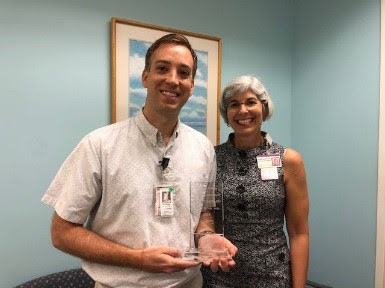 Andrew Giles, MBA
Assistant Administrator
Kaiser Permanente
2019 Early Career Healthcare Executive Recipient
Col Kara Gormont, FACHE
Commander, 15th Medical Group
Joint Base Pearl Harbor Hickam
2019 Senior Healthcare Executive Recipient
ACHE is YOUR premier professional association with a vast array of information to support and guide you through these changing times.
I look forward to seeing you at the 2019 Annual ACHE/ AONL/ HSCN conference "Leadership in Action" on November 14 and 15, 2019. A few session titles to pique your interest include "Leading and Changing a Culture of Evidence-based Practice for Quality Improvement," "Framework for Becoming a Transformational Leader" and the "Evolution of Healthcare Leadership."