Hawaii - Pacific Chapter of ACHE
Fall 2019 Vol. 3
Messages from Chapter Leadership
Message from the Regent
Hawaii-Pacific Regent, Gidget Ruscetta communicates ACHE's mission to advance healthcare leaders and the field of healthcare management excellence. She had the distinct privilege of recognizing two Hawaii ACHE members during the Annual Breakfast.

Fall 2019
The healthcare landscape continues to evolve at a rapid pace. Daily, there are alliances forming, healthcare systems merging, shortages in various specialties and newly minted physicians seeking a better work/life balance. It appears you are swirling in a sea of uncertainty, and from time to time, you may be. Regardless of our experience and seniority, I encourage you to lean in on your ability to build new relationships, leverage technology and resources, gain efficiencies through partnerships and mentor our up-and-coming leaders of the future.
The Annual Chapter Breakfast was very well attended this year. It was wonderful to see so many of our military members in attendance and to hear our keynote speaker, COL Mary V. Krueger, Hospital Commander, Tripler Army Medical Center, share her perspective on the "Military Healthcare Transformation." COL Krueger spoke about the military's approach to healthcare – the "Quadruple Aim: Improved Readiness, Better Health, Better Care and Lower Cost." What resonated the most is that all healthcare systems - big or small, local, national or international - are all dealing with the same issues: healthcare is changing, and we need to be prepared and ready for the change with it.
At the Annual Breakfast, I had the distinct privilege to recognize two of our members for their excellence as healthcare leaders. The Regent Awards for 2019 were presented to an "Early Career Healthcare Executive" and a "Senior Healthcare Executive," who have both demonstrated leadership, executive presence, commitment to their profession and the list goes on...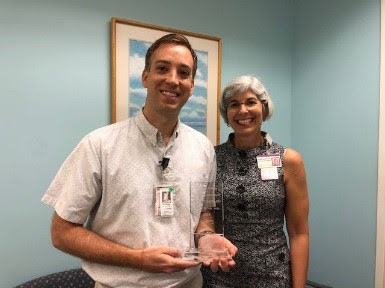 Andrew Giles, MBA
Assistant Administrator
Kaiser Permanente
2019 Early Career Healthcare Executive Recipient
Col Kara Gormont, FACHE
Commander, 15th Medical Group
Joint Base Pearl Harbor Hickam
2019 Senior Healthcare Executive Recipient
ACHE is YOUR premier professional association with a vast array of information to support and guide you through these changing times.
I look forward to seeing you at the 2019 Annual ACHE/ AONL/ HSCN conference "Leadership in Action" on November 14 and 15, 2019. A few session titles to pique your interest include "Leading and Changing a Culture of Evidence-based Practice for Quality Improvement," "Framework for Becoming a Transformational Leader" and the "Evolution of Healthcare Leadership."
Thanks,
Gidget
Gidget Ruscetta, FACHE
Regent for Hawaii/Pacific
COO
Pali Momi Medical Center/Hawaii Pacific Health
gidget.ruscetta@palimomi.org

Message from the Chapter President
Darlena Chadwick, MSN, MBA, FACHE


Chapter President, Darlena Chadwick shares recent chapter events including plans to strengthen community and professional partnerships. The variety of educational opportunities available to our members is a testament to the value of these relationships.


Aloha Chapter Members!

2019 continues to be an eventful year.

In June, we held our New Member Breakfast, one of our most well attended ever! Please join me in welcoming all of our new members. We are all excited to see your involvement in the many committees and events we have to offer!

Our Annual Breakfast in July, was held at the Hawai`i Prince Hotel. This was another well attended event with a great speaker, Colonel Mary Krueger, D.O., Commander for the Tripler Army Medical Center.

We then kicked off the Fall season with our Fall Social Mixer at Off the Wall Craft Beer and Wine in September. The reviews for the event were highly complimentary.

Please do not forget to register for the upcoming face-to-face credit opportunities:
ACHE Emerging Leaders Boot Camp
Date: October 25, 2019
Location: Pali Momi Medical Center


AONL Leadership in Action (ACHE co-sponsor)
Date: November 14-15, 2019
Location: The Kahala Hotel & Resort
With the exciting events coming up in the next few months I look forward to seeing everyone.
Respectfully,
Darlena
Darlena Chadwick, MSN, MBA, FACHE
President, Hawai'i-Pacific Chapter of ACHE
Queen's Health System
Office: (808) 691-4742
dchadwick@queens.org
Member Spotlight
Meet our New Physician Representative
James Lin, MD

Introducing Hawai'i ACHE Chapter member, executive leader and Chapter Physician Representative James Lin, MD. Dr. Lin shares his view on the importance of leading change in healthcare and in the community.
Aloha!
I am honored to have been named the first Physician Executive to the Hawai'i ACHE Board of Directors. While medical training teaches physicians how to interact, diagnose, and treat patients, it teaches next to nothing about health care delivery and leading change.
I am a pediatric hospitalist part time and family centered care is the cornerstone of pediatrics. The other part of my work is in clinical informatics where teamwork is the only way to accomplish improvements in EMRs and health information systems. Multidisciplinary teamwork for family care and in information technology is similar to what I see among ACHE members collaborating to provide the best health care for our unique situation here in Hawai'i.
I have found the ACHE materials and the Hawai'i Chapter members invaluable in learning some of the tools needed for physician executives to help lead change for our families here in Hawai'i. I think many physician executives would also benefit and increasing physician membership and participation in our chapter is my goal. Feel free to send me opportunities to connect with physicians executives who you think may be seeking an opportunity to network and collaborate.
Once again, mahalo for the honor for serving as the physician executive on the Hawai'I ACHE Board of Directors.
James Lin, MD
Medical Informatics
Hawai'i Pacific Health
Articles of Interest
Sales Representatives in Healthcare: Partnering to fill a need for Healthcare Organizations
Kenny Morris, MBA-HCM

Healthcare organizations lead the way to improve the health of patients and communities. Sales representatives help bridge the gap between inputs and outcomes.

In this multi-part series, we will be exploring the role and value of sales representatives in the healthcare space as well as ways that healthcare organizations can better partner with their local sales force to help drive positive outcomes at the bedside.

Part III: Bridging the Gap between Inputs and Outcomes


Connecting the clinical and operational inputs at the bedside with enterprise level quality and financial data is essential to driving positive change in healthcare organizations throughout the continuum of care.

Sales representatives can provide value in this space by providing high-quality evidence-based practice guidelines, sharing product knowledge and connecting healthcare professionals across organizational boundaries to solve problems and improve care. Beyond these conventional duties, sales representatives should also be held accountable in ensuring their products are delivering value through a periodic and ongoing analysis of utilization inputs and quality-based outcomes. At the most basic level, we seek to answer a simple question about any product being utilized in the healthcare supply chain: "Is it working?".


By understanding and measuring these inputs and outcomes, the value (and eventual return on investment) of products and services can be better understood by healthcare facilities. To simplify and explain this relationship between measuring inputs and valuing outcomes, let's use a non-hospital example: seatbelts in cars.

Peer reviewed, published evidence supports that wearing a seatbelt while in a car will reduce the likelihood of major injury or death in the event of an accident. So, for this example, our sales representative is selling and installing aftermarket seatbelts to customers in our target area where no factory standard seatbelts come installed (again, just a simple example here!).

Establishing the Inputs:
Because we cannot easily measure the number of people wearing seat belts at any given time, the simple input metric we will use is the number of aftermarket seatbelts sold by the sales representative to customers in the target area by year. While we cannot make every customer that has a seatbelt wear it, we can measure who has a seatbelt available in their car.

This example correlates to many of the products utilized in healthcare– while they may not always be used, we can at least establish that they are being stocked and delivered to the patient / clinical staff etc.
Establishing the Outcome Measures:
Because the expectation on the part of the customer (and most likely the selling point and value proposition utilized by the sales representative) is that having a seatbelt will help to reduce major injury or death in the event of the accident, we will use major injuries and deaths due to car accidents as our outcome metric.

This can be related to the claims and evidence used by healthcare manufacturers to sell their products. Read any healthcare industry magazine and claims of "50% reduction in infections!" or "75% improvement in rates!" are not uncommon. Tracking those rates or outcomes against utilization is the important part of this process as it relates to healthcare quality
Once we have our inputs and outcome measures established, we can move forward with collecting data. Our sales representative can provide us with the total sales and installations of seatbelts in the target area which we can use to run our analysis. For the purposes of this example let's use the below numbers as our sales representative's sales for the past 10 years:
| | | | | | | | | | |
| --- | --- | --- | --- | --- | --- | --- | --- | --- | --- |
| YEAR | 1 | 2 | 3 | 4 | 5 | 6 | 7 | 8 | 9 |
| SEATBELTS SOLD | 20 | 30 | 60 | 90 | 100 | 30 | 40 | 140 | 130 |

From there, we can look at collecting our outcome data related to major injuries and deaths associated with car accidents for our target area (let's say we were able to pull this from local Emergency Medical Services records for our example):
| | | | | | | | | | |
| --- | --- | --- | --- | --- | --- | --- | --- | --- | --- |
| YEAR | 1 | 2 | 3 | 4 | 5 | 6 | 7 | 8 | 9 |
| Car Accidents Involving Major Injury Or Death | 5 | 6 | 6 | 5 | 4 | 9 | 9 | 2 | 2 |


Since this is very much a big picture analysis, we can do a graphical representation with a bar chart representing the input (# of seatbelts sold and installed) and a line chart overlaid to represent the outcome metric (# of Car accidents involving major injury or death). Here's what that would look like based on the above data:
Ideally what we want to see is a situation like our example above where the number of seatbelts sold and installed increases, the overall number of major injury or deaths appear to decrease (again, this is just an example). Additional statistical analysis (such as regression analysis etc.) can be used based on the type and quality of data inputs available and to get more specific but generally, improvement over time and correlation is what would be expected in this high-level analysis.
To provide a simple statistical analysis, a trendline can be inserted for the two metrics to show as the input increases (seatbelts) the outcome would decrease as is shown below:
These trendlines express graphically our assumption and expectation – as installations of seatbelts increase, major injuries and deaths should decrease.
Beyond this, additional analysis can be performed to determine return on investment (both human and financial), as well as where additional focus and management are necessary in relation to this specific product or outcome.
Due to the scope and scale of healthcare products and outcomes, it is important to prioritize which products and outcomes you are scrutinizing based on cost of the product and cost of the outcome. Additionally, delegating the collection of data associated with the inputs and products (and outcomes where appropriate) to the sales representative to be presented quarterly or at some predetermined interval will help to spread the load of collecting data and managing the analysis.
This basic analysis is a starting point – a 30,000ft view where insights on where additional resources can be applied to drive continued value and return on investment are generated.
This model can be applied in many ways to many different products and services. Some examples from my background in hospital products include:
Lateral and in Bed Positioning Systems and Staff Injuries
Oral Care Kits and Hospital Acquired Pneumonia
Barrier Cream Cloths and Hospital Acquired Pressure Injury or Incontinence Associated Dermatitis
Bathing Cloths and Catheter Associated Urinary Tract Infections
Presurgical Prep Kits and Surgical Site Infections
A sales representative selling a product that is designed to deliver an outcome that understands that both the inputs and outcomes associated with their product are being tracked and analyzed periodically should be highly engaged in managing those inputs to ensure a positive outcome is delivered.
Since in this model their sales depend on it (a product that does not deliver on its proposed value should not be retained), a good sales representative will be incentivized to understand whether or not their product is working and if it is not, using their skills and expertise to make it work.
Ultimately this model creates a collaborative and long-term relationship between healthcare systems and sales representatives where incentives are properly aligned behind quality, outcomes and delivering on promises made during the sales process.
Improved Communication Leads to Higher Patient Outcomes, Lower Readmission Rates
A customer-centric mindset is essential to creating a culture of communication and improving patient outcomes.
Aside from top-quality providers and the latest technology, what do the most successful hospitals have that others do not? The answer is clear and effective communication across all levels and areas of care. Effective communication is central to the patient experience and important for both short- and long-term episodes of care, but it is particularly critical at key transition points in care, most notably at discharge.
Collaborative communication across the care team is just as vital as direct communication with patients. In leading patient experience surveys the question "How well did hospital staff work together as a team?" is highly correlated with overall patient satisfaction. That correlation makes perfect sense. When patients receive clear, consistent information from every caregiver, they are more confident about what to both during a hospital stay and after discharge.
Communication in a hospital or other care setting is more challenging than in virtually any other industry. This complexity traces to a number of industry-specific issues, including a high number of unique transactions during and across care episodes; traditionally siloed work processes related to diagnosis and treatment; and longstanding hierarchical barriers among care teams. Clear, open communication builds trust, reduces confusion and increases patients' confidence, which contributes directly to better outcomes and reduced readmission rates.
Following are three overarching strategies to help organizations change the way frontline staff think about communication:
1. Create a culture of communication first. To improve interactions, staff members have to understand what effective communication looks and feels like at all levels of the organization. Leaders must demonstrate best practices and reinforce communication as a priority every time they interact with staff and patients, through strategies such as organization-wide town hall meetings, attendance at individual departmental meetings and regular rounds at the frontline.
2. Make it easier to communicate internally. If an organization's culture is one that encourages open, transparent communication, then providers will feel free to question and investigate discrepancies and gaps in information. While the latest comprehensive electronic health records facilitate information exchange, they don't replace effective interpersonal communication, either among the care team or with patients and families.
3. Fully embrace a customer-centric mindset. With focused training and mentoring from managers, healthcare professionals can develop the communication skills that improve interactions with one another and with patients. An investment in improved communication practices and competencies is an essential part of improving not only patient experience, but also patient outcomes.
Ample research establishes that effective communication is essential to attaining better health outcomes. To be sure, changing both the culture of communication and the specific practices and tools used on the ground entails a significant organization-wide commitment, but the results will be well worth the effort.
—Adapted from "How Better Communication can Improve Patient Outcomes and Lower Readmission Rates," by Burl Stamp, Healthcare Business & Technology, Feb. 26, 2019.
US Medical Students Choosing Primary Care Specialties in an Eight-Year Decline
Graduate medical students choosing primary care practice continues a steady decline amidst the growing need for such services.

Despite hospital systems and health officials citing the need for more primary care doctors, graduates of U.S. medical schools are becoming less likely to choose a specialization in this field.

According to the 2019 National Resident Matching Program—the nonprofit group that determines where medical students will study in their chosen specialties after graduation—the percentage of primary care positions filled by fourth-year medical students was the lowest on record. The 2019 report shows that of the 8,116 internal medicine positions offered, only 41.5% were filled. Family medicine and pediatrics reflected a similar trend. In fact, according to an analysis of historical Match data, the percentage of U.S.-trained physicians matched into primary care positions has declined since 2011.

Meanwhile, recent data from the American Association of Colleges of Osteopathic Medicine shows that medical colleges granting MD degrees graduate nearly three-quarters of U.S. students moving on to become doctors. The rest graduate from osteopathic schools that grant DO degrees. The five medical schools with the highest percentage of graduates choosing primary care are all osteopathic institutions, according to a 2019 U.S. News & World Report survey.

Physicians trained at foreign institutions, including both U.S. and non-U.S. citizens, accept unfilled primary care residency positions as well. In the 2019 match, 68.9% of foreign-trained physicians went into internal medicine, family medicine and pediatrics.

Despite osteopathic graduates and foreign-trained doctors taking up primary care spots, a primary care physician shortage is still expected. In April 2019, the Association of American Medical Colleges predicted a shortage of between 21,100 and 55,200 primary care physicians by 2032.

Why the decline? One reason may be as simple as higher income. According to a recently published Medscape survey of physicians, the annual salaries of internal medicine practitioners average $243,000—a little over half of what orthopedic physicians bring home. Family medicine and pediatrics reportedly earn even less.

Another deterrent to choosing within the primary care field may be the time primary care physicians spend on paperwork and completing electronic medical records. According to the Medscape data, in 2012, 53 percent of physicians completed approximately 1 to 4 hours of administrative tasks per week. The 2019 report shows that the numbers have risen to 74 percent and about 10 hours per week.

Tellingly, only 62% of internal medicine doctors in the survey said they would choose to go into their specialty again; the lowest percentage on record for all physician specialties surveyed.



—Adapted from "American Medical Students Less Likely To Choose To Become Primary Care Doctors," by Victoria Knight, Kaiser Health News, July 3, 2019.
Diversity
The Hawaii-Pacific Chapter of ACHE Advocates for Diversity and Inclusion
Major Jackie Kim
The traditional Hawaiian values of the "spirit of aloha" and the "spirit of ohana" not only reflect, but also embrace diversity and inclusion. Our local chapter leaders advocate for and promote events to train future leaders to create an inclusive professional healthcare community.

When you hear the buzz term diversity, what comes to mind? Initially some may think of ethnic diversity, gender diversity, or even generational diversity. In addition to diversity, the American College of Healthcare Executives also values inclusion; where we appreciate diversity of experience, thought, and leaders from all walks of healthcare. Here on the islands of Hawaii and in the Pacific, not only are we in beautiful paradise, we are blessed to be in a melting pot of people and culture. I honestly believe there is something special about this place. For those that have lived here for a while, you sense that diversity and inclusion is second nature around here. Hopefully many of you know what I mean and you've experienced what locals call the "spirit of aloha" or the "spirit of 'ohana". Aloha can have several meanings, but when you get to the heart of it, it is the essence of love, respect, and compassion. 'Ohana means family in Hawaiian, but widens its aperture to embrace everyday relationships to include family, friends, co-workers, and our community.

In the spirit of aloha and 'ohana, the Hawaii-Pacific Chapter of ACHE welcomes diversity and inclusion. Historically, ACHE members were predominantly healthcare administrators, but recently healthcare leaders from all backgrounds are beginning to find a place within ACHE to network with others who care about health, community, and 'ohana. Our Hawaii ACHE Chapter embraces this diversity, and welcomes all disciplines who want to engage and collaborate with others in improving the health of our island communities. encourages We encourage and challenge you to invite those amazing physicians, nurses, dentists, pharmacists, all health professional leaders and innovators you work with to join our chapter! Love, respect, compassion, and family are all things that we share in our passion for healthcare. So why not join hands with a shared purpose to improve the health of our community through fellowship and teamwork.

On Friday, October 25th, we invite you and your healthcare friends to join us at our ACHE Hawaii Leadership Bootcamp. This event is open to all our healthcare 'ohana, focusing on emerging leaders to equip them in the early stages of their career. We are excited to announce that Vice Admiral Raquel Bono will be joining us as our special guest speaker! Highlighting diversity, VADM Bono is the first female Navy medical officer to achieve the three-star rank. She attended medical school at Texas Tech University and completed general surgery residency at Naval Medical Center Portsmouth. Recently retired and completing her term as Director of the Defense Health Agency, VADM Bono has served an honorable 36-year military career. Additionally, our ACHE Leadership Bootcamp will include sessions on essential skills of strategic career mapping, mentoring, coaching, and building sustainable strategies to support resiliency and well-being. We have a fantastic line up of phenomenal leaders across many health professional backgrounds. Registration is open and seats are limited! Looking forward to seeing you there!
Calendars and Recent Events
Annual Breakfast Highlidghts: A Pictorial
On July 18, 2019, Hawai'i ACHE members gathered for the chapter's annual breakfast at the Hawai'i Prince Hotel. The annual breakfast is a time to review the year's accomplishments, set new goals aligned with the mission and vision of our national ACHE organization, recognize and congratulate newly minted fellows and renewing fellows, and reconnect with professional colleagues and long-time friends.
Below are a few photos from the Annual Membership Breakfast. Enjoy and celebrate the achievements of your chapter colleagues and leadership!
COL Mary V. Krueger, Hospital Commander, TAMC addressing the crowd.
Gidget Ruscetta addressing the group.
Andrew Giles receives the 2019 "Early Career Healthcare Executive" Regent Award.
Calendar of Events
Calendar of events
Calendar of Educational Events
Upcoming Calendar of Educational Events
News & Committee Updates
News from the Education Committee
Kristen Croom, MLS(ASCP), MB(ASCP)

Aloha Hawaii-Pacific Chapter!
The Hawaii-Pacific Chapter of ACHE is committed to providing professional education opportunities so our members and fellows can obtain and maintain FACHE status. The education committee continues to explore avenues to provide unique opportunities for members to obtain Face-to-Face (F2F) credits as well as Qualified Education Credits (QEC) without having to travel out-of-state.
This fall, the education committee is very excited to offer two leadership training and educational opportunities. The first is our annual Leadership In Action (LIA) Conference at the beautiful Kahala Hotel & Resort. The LIA Conference is a two day event, Thursday and Friday, November 14 and 15. The second is our first ever Leadership Bootcamp on Friday, October 25 at Pali Momi Medical Center. Please feel free to contact Kristen Croom if you have questions or concerns about claiming Qualified Education Credits. If you have an idea for a F2F event please email Kristen at
kcroom80@gmail.com
; we are always looking for more ideas.
As a member of the education committee we would like to thank all of you for continued support and participation in our local chapter.
With regards,
News from the Guam Local Program Chapter
Geojun Wu, MHA


Geo Wu, GLPC Chair, shares GLPC updates and a commitment to working together with ACHE Hawaii-Pacific Chapter leadership.

Hafa Adai,

It has been quite the rainy season here on Guam and it seems like it won't stop!

With PCS season ending, we have a few new members at Navy and Air Force to include in our GLPC. I would especially encourage our military members on island to stay active within ACHE as we have been more innovative with methods for participation. Also, just in time for our Hawaii ACHE Leadership Bootcamp!

Although practicing healthcare administration/leadership in a remote location is an amazing experience, it can be challenging at times. Maintaining communication is always the most difficult task (especially across time zones) but working within our community, we are able to get our patients to the healthcare that they need.

As the next quarter begins, I shift past my midway mark for my stay here on Guam. While the island is small, there are plenty of activities and endless places to explore! Looking forward to our next quarterly local meet and greet.


Geojun Wu, MHA

President, Guam Local Program Chapter

USN, MSC, Naval Hospital Guam

671-489-2135



Student Corner
Rachelle B. Gallegos, Student Representative

Student Representative Rachelle Gallegos shares tips for FAFSA application and eligibility.
STUDENTS!!
Mark your calendars now for the 2020 Congress, March 23–26, 2020, Hyatt Regency Chicago. Experience the education and career advancement opportunities, plus valuable networking.
ACHE's Congress on Healthcare Leadership
gathers more than 4,000 members from the healthcare leadership community for this annual premier education and networking event. Congress offers each attendee countless opportunities to innovate, collaborate, grow and transform by having access to top thought leaders on a variety of hot topics and networking events to share perspectives and insights with the diverse array of interprofessional leaders.

More information to come.
Mahalo,
Rachelle Gallegos
Student Representative
808-330-8817 (Mobile)
Membership Report: New Fellows, Members, and Recertified Fellows
Andrew Giles, MBA, CHESP, FACHE

On behalf of the membership committee, I wish to thank all of you for your engagement and continued support to our chapter.
Aloha Kakou!
Our membership continues to grow, this is a testament to the value that this organization provides to our members. We are pleased to welcome the 9 new members who have joined our local chapter since June! I encourage you all to participate in our upcoming educational and social events, this is a great way to sharpen your skills and network with industry colleagues. Lastly, the new year is just around the corner, which also means elections will take place for board positions. If you are interested in getting involved with ACHE Hawaii-Pacific Chapter board, please reach out to me directly at
Andrew.T.Giles@kp.org
.
Please extend a warm aloha to our New Members!
Dale Glenn, MD
Robin Matsukawa, MD
Colby Takeda, MBA, MPH
HMCS Jose Delgado
Bradley Sakaguchi, MD
Irel Shishido
Emily Denson
Tracy Rodriguez
SFC Benjamin Heimstead
Thank you,
Andrew T. Giles, FACHE
Chair, Membership Committee
President-elect, Hawai'i-Pacific Chapter of ACHE
808-432-7960 (office)
808-432-8605 (fax)
808-763-8544 (mobile phone)
ACHE Resources
ACHE National News
ACHE National News: Fall Edition
PROGRAM SPOTLIGHT
Advancing Healthcare Leadership Through Knowledge
Regardless of career stage or role, learning is essential to continually improving ourselves, our organizations and our profession. This fall, you'll have plenty of opportunities to fine-tune your leadership skills at three upcoming professional development events and earn 12 ACHE Face-to-Face Education credits for each seminar you attend.
In mid-October, discover why sustainable excellence depends on the adaptability of the workforce during Leading for Success: Creating a Committed Workforce at the Las Vegas Cluster. There, you can also explore how to implement processes to set and achieve goals that are used by top-quartile provider organizations during Proven Strategies and Leadership Methods for Effectively Leading Change in Today's Environment.
At the New Orleans Cluster, Oct. 21–24, you'll learn how to remedy the gap between consistent leadership behavior and sustained organizational performance when you attend Behavior Smarts: Increasing Healthcare Leadership Performance. Discover how to think beyond the here and now and focus on innovative, future-oriented outcomes during Possibilities, Probabilities and Creative Solutions: Breakthrough Thinking for Complex Environments.
In November at the San Diego Cluster, you can master face-to-face accountability conversations and learn how to motivate productive behavior during Managing Conflict, Accountability Conversations and Disputes. Gain the necessary tools to help you integrate project management into your organization's culture when you attend Leadership and Accountability in Project Management and Programs.
These educational events are just some of the resources ACHE offers to engage, support and transform healthcare executives.
---
Recent Grads: Fellowship Opportunities at Their Fingertips
After graduating from a master's degree program, a postgraduate administrative fellowship can give students and early careerists the competitive edge they'll need to succeed in their career. A fellowship enhances existing skills in a low-risk setting and provides valuable exposure to the healthcare management field.
The Directory of Postgraduate Administrative Fellowships is up-to-date, free and easy to use. Recent graduates can use it to review and apply for fellowships around the United States that interest them. Each listing includes application deadlines, the program description and instructions on how to apply.
In addition, you'll find a variety of resources available at ache.org/PostGrad.
---
ACHE Requests Your Input on Our Strategic Plan
ACHE annually examines its Strategic Plan with a continuing focus on meeting the evolving membership needs and of the healthcare management field. We are now in the second year of our three-year strategic-planning cycle with a focus on accelerating the digital experience of our members and exploring new engagement models for early careerists, clinicians and C-suite executives. We also are focusing on strengthening chapters and amplifying our Leading for Safety initiative. Additionally, we are preparing for our triennial "deep dive" in July 2020 to revisit our Strategic Plan and build a new set of strategic priorities to guide the organization's work during the next three-year cycle.
In November, ACHE will present the Board of Governors with final revisions to the Strategic Plan. If you would like to provide your feedback, please take a moment to review the draft 2020–2022 Strategic Plan and send us your thoughts, comments and ideas for improvement. Please direct your email responses to StrategicPlanFeedback@ache.org. The deadline for comments is Oct. 18, 2019.
---
Two Safety Resources: The Safety Playbook, High-Reliability Healthcare
Each year, more than 250,000 patients die from preventable medical errors, according to a Johns Hopkins estimate. In light of this statistic, creating a culture of safety in healthcare is a necessary endeavor, and ACHE is committed to helping leaders understand the strategies and best practices for advancing an organization's culture of safety. Now, you can purchase Health Administration Press' "safety bundle" at the discounted rate of $82.
This deal includes two valuable resources for healthcare leaders who want to make a significant impact on safety within their organizations. The Safety Playbook: A Healthcare Leader's Guide to Building a High-Reliability Organization by ACHE authors John Byrnes, MD, and Susan Teman, RN, offers healthcare leaders across the spectrum of care with a process for building a safety program that can eradicate preventable medical errors.
High-Reliability Healthcare: Improving Patient Safety and Outcomes With Six Sigma, Second Edition, by ACHE authors Robert Barry, PhD; Amy C. Smith, DNP, FACHE; and Clifford E. Brubaker, PhD, provides healthcare executives with a toolkit for understanding variability, managing change and ultimately reducing errors and improving patient outcomes.
Please note that this deal is excluded from all other sales and discounts. Purchase our safety bundle today.
---
Second of Three Education Sessions Explores Leadership Lessons Learned
A highlight of the second session was an "innovation exchange" with Live Well San Diego—a population-based strategy and ecosystem of services. San Diego County leaders developed the service model a decade ago to address the health needs of citizens and the vital human services that lead to thriving communities. It synchronizes physical and behavioral health and social services to empower actions that lead to better outcomes and impact.
During the site visit, attendees heard three presentations from staff with the County of San Diego Health & Human Services Agency, including Nick Macchione, FACHE, agency director. Other staff addressed the vital role of building a region of health and social wellness, the importance of advancing social capital and expanding community capacities through visionary and community-driven leadership.
"It was a valuable opportunity to be able to hear from public health leaders and understand the lens they bring to healthcare and community welfare overall," said one of the session participants. "The speakers were interesting and genuinely passionate about the role they play in advancing a healthier county."
The third session will take place in Orlando, Fla., Oct. 28–30. There, attendees will visit Lake Nona Medical City.
Interested in joining the 2020 Senior Executive or Executive Programs and earning over 45 (EP) or 50 (SEP) ACHE Face-to-Face Education credits? Mark your calendars now for next year's sessions scheduled to take place June 15–17, 2020; Aug. 10–12, 2020; and Oct. 19–21, 2020. More information about the 2020 opportunities will be available soon.
Career Corner
Whether you're an early careerist, making a career transition, or getting ready to retire from the C-suite; ACHE's Career Resource Center offers a myriad of tools and resources to help you succeed.
Developing and Managing your Professional Career

ACHE is committed to supporting its members to develop and manage their professional careers. ACHE provides resources to get you started and chart your course through retirement and beyond.
Create a Career Plan

When it comes to career planning, strategy is everything. Whether your looking to grow in your current role or advance your career, ACHE provides the necessary tools to help you identify short and long term career goals.
CareerEDGE
is ACHE's comprehensive and interactive career planning tool for professional members. Students can access and utilize
CareerEdge SE.
Start your self-assessment today.
Build your Personal Brand

Explore and take advantage of ACHE resources to help build your personal brand.
Access online tools
to help ace that next interview, update your resume, and or enhance your online presence.
Plan your Encore Career
Planning your next move, whether it's retirement or the next great opportunity, requires time and effort. ACHE has resources to help you answer crucial questions when making decisions about retirement. Read the article "The Third Chapter of Life," by Robert J. Trefry, LFACHE.
Disclaimers/Sponsors
Ensure delivery of Chapter E-newsletter (Disclaimer)
To ensure delivery of your chapter newsletter, please add info@hawaii.ache.org to your email address book or Safe Sender List. If you are still having problems receiving our communications, see our white-listing page for more details:
http://www.commpartners.com/website/white-listing.htm
Thank you to all our Sponsors
The ACHE Hawai'i-Pacific Chapter is pleased to announce our valuable sponsors for this year. Our sponsors allow us to continue to offer high quality continuing education and leadership development to prepare Hawai'i's healthcare leaders for the ever changing and challenging health care landscape.
Platinum Sponsors
Hawai'i Pacific Health
Hawai'i Pathologists
Kaiser Permanente
The Queen's Health Systems
Gold Sponsors
Martti
TRANE (Ingersoll Rand Company)
Silver Sponsor
Cache Valley Electric
Many thanks to our sponsors: