Thank you to all who helped make the ACHE- WI Chapter's 3rd Annual Conference, Driving Engagement Through Innovation, a huge success!
This year's keynote presenter was Jeff Bahr, MD, FACP, Executive Vice President, Aurora Healthcare, President, Aurora Health Care Medical Group, with a session on Physician Engagement and Alignment in the Face of Change. In the Face-to-Face sessions, we were able to offer a total of 12 credits and heard panelists across Wisconsin Health Systems. There were also presentations by our Premier Sponsors: Godfrey & Kahn, S.C., Eppstein Uhen Architects and AbbVie.
Thank you to our conference planning committee members: Kara Mulligan, Alexandra Urrutia-Comas, Tim Deacy, FACHE, Jordan Dow, FACHE, Tanner Holst, James McLain, FACHE, Kathleen Olewinski, FACHE, Linda Roethle, FACHE, Janet Schulz, FACHE and Kimberly Stapelfeldt.
At the Annual Meeting we also recognized our ACHE Service Award Winners and Regent Award Winners!
Regent Award Winners
Senior Healthcare Executive Award
James McLain, FACHE
Young Healthcare Executive Award
Jerome Garrett Jr., FACHE
Champion of Diversity
Timothy Gaillard, FACHE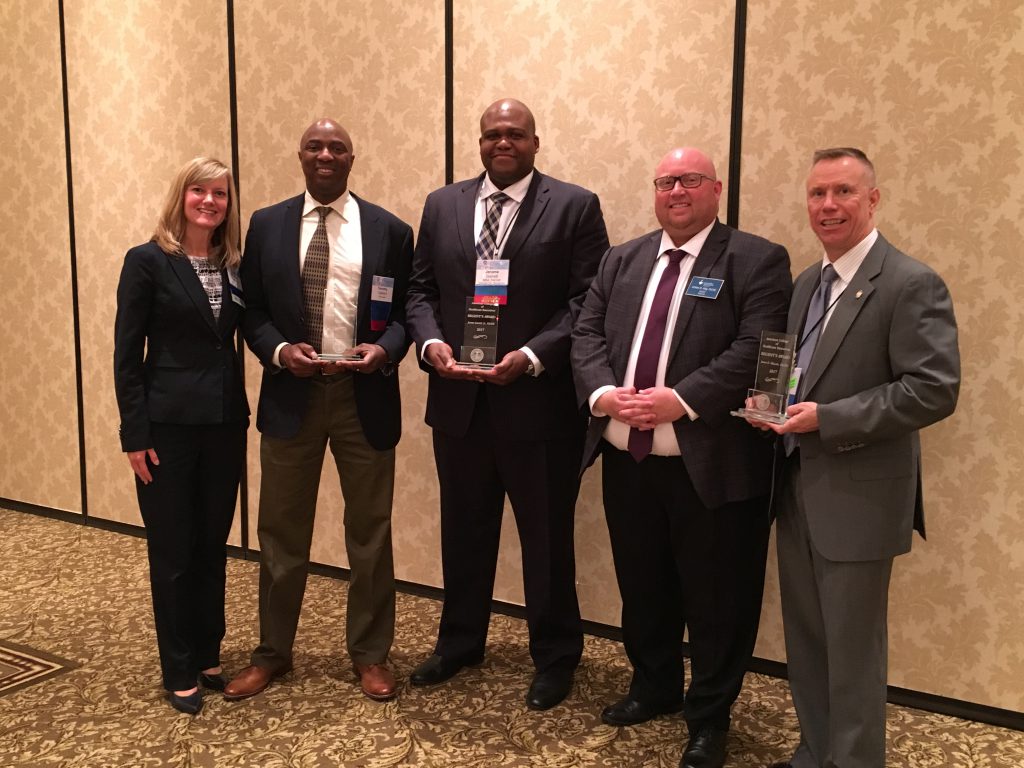 Pictured: Rebecca Wieczorek, FACHE (ACHE-WI Chapter President), Timothy Gaillard, FACHE, Jerome Garrett Jr., FACHE, Andrew Hillig (ACHE Wisconsin Regent) and James McLain, FACHE.
ACHE Service Award Winners
Distinguished Service Award
Katherine Bagemihl, FACHE
Service Award
Allen Ericson, FACHE