AGC Safety Director, Dan Burazin, Helps Lead National Safety Stand Down
Dan Burazin, AGC Safety Director, was recently featured in an AGC of America Webinar to help other AGC chapters around the country facilitate their own Safety Stand Downs.
With the AGC of Milwaukee's/Wisconsin's Stand Down in full swing, Dan was able to give valuable insights into a Safety Stand Down planning and execution.
These Stand Downs are extremely important as they serve as an excellent opportunity for your company to make sure that everyone working on your job sites understands, and follows, all relevant safety guidelines provided by public health and safety officials.
Please click here to see the AGC of America's resources on planning a Safety Stand-Down event.
The last few weeks have been an extremely challenging time for the construction industry due to the COVID-19 virus. Nonetheless, we wanted to share with you something on a much brighter note to remind you that we will all get through this calamity, and normalcy will again return.
We're pleased to share with you our 2019 AGC Annual Report and remind you of the many achievements we made as an industry last year.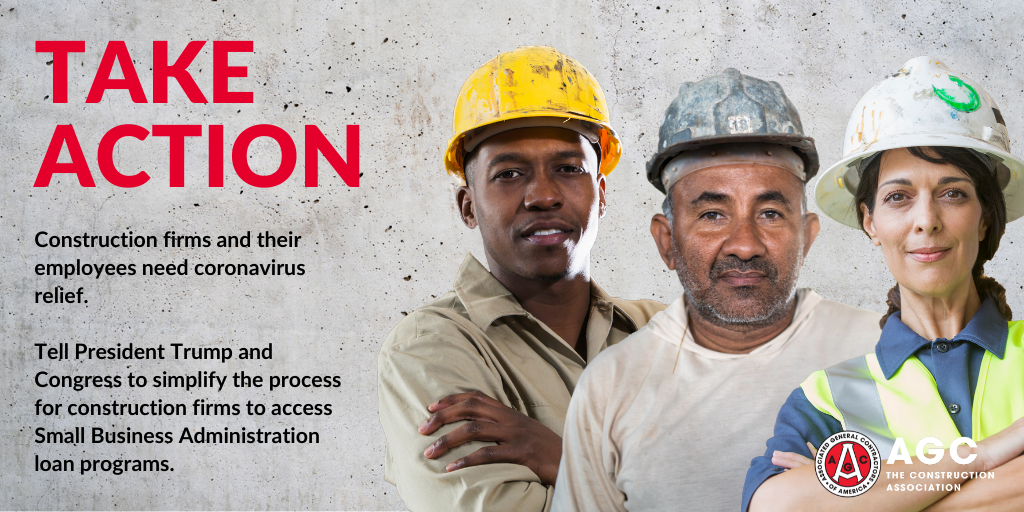 Tell the Trump Administration and Congress to add more funding to and simplify the eligibility requirements for the Small Business Administration (SBA) loan programs so construction firms and their employees can get needed coronavirus relief as soon as possible.

Click the "Take Action" button below and simply submit the pre-written message as is to President Trump and your members of Congress or customize it with personal information on how this issue impacts you and your employer.
The chaotic stream of guidance from the U.S. Department of Labor on the new employer-fronted paid leave mandates and from the U.S. Small Business Administration on the Paycheck Protection Program (PPP) loans—both of which have different rules for getting to the same conclusion of how many employees a construction firm has—has immensely confused the 682,000 construction firms that have fewer than 500 employees.
The result has been many construction firms being unfairly disadvantaged and delayed in applying for loans. To help remedy this confusion, Congress must:
Allow all businesses required to provide employer-fronted paid leave to be automatically eligible for PPP loans to mitigate confusion and meet the intent of the new loan program, which is to help ensure employees are paid, not laid off; and
Waive the SBA affiliation regulations for all industries seeking PPP loans, as these regulations are incomprehensible to the vast majority of construction businesses, especially at a time when their financial viability is hanging in the balance.
Taking action is easy. Simply click the above button to submit the pre-written message as is to President Trump and your members of Congress or customize it with personal information on how this issue impacts you and your company. If you would like to forward the alert to colleagues and friends, please wait for the instructions that will be included in the confirmation email after you take action.
Governor Evers has Submitted his Financial Proposals to Address the Corona Virus
Under LRB 6128, Governor Evers has proposed $700 million in new spending: $200 million to the Department of Administration, $300 Million to the Department of Military Affairs and increasing the number of employees at the Division of Public Health. His second proposal, LRB 6105 has $300 million in additional funding for health care providers, ensures workers receive back pay for lost employment benefits due to the one week waiting period.
Finally, Governor Evers proposal extends the length of his public health emergency order indefinitely for the length of the state's response to the pandemic. His current order lasts for 60-days and was to expire on May 12th.
In order for the Governor to extend the emergency order, a Joint Resolution must be passed by both houses of the legislature. Republicans have asked the Governor to provide them with the supporting data that would demonstrate the need to extend the emergency beyond the current 60-day period.

The AGC of America recently hosted an 8-part webinar series on the "Factors that Construction Companies Need to Consider, as They Strive for Business Continuity". This series is FREE TO AGC MEMBERS. More detailed information on the webinar series can be found here.
The series covered the following topics:
Part I: Your Federal and State Legal Obligations to Provide Paid and/or Unpaid Leave to Your Employees
Part II: What the Federal and Many State Labor and Employment Laws Are Likely to Require of You, as You Adjust Your Operations to Meet the Latest Contingencies?
Part III: The Contractual and Related Legal Protections and Risks for Construction Companies
Part IV: How to Protect Your People and Your Projects
Part V: The Components of a Comprehensive Project Continuity Plan
Part VI: Insurance Coverage and Claims for Losses Resulting from the Outbreak
Part VII: The Additional Pressure that the Outbreak Could be Putting on Your Information Technology
Part VIII: What You Need to Watch, as the Outbreak Continues to Unfold
To access ALL slides and recordings, click here. You will have to enter your AGC credentials to access the information.
During these unprecedented and ever-changing times, AGC of Greater Milwaukee is working to ensure you are prepared with the latest information and resources related to COVID-19. We are working around the clock to keep you and your teams safe and supported.
What is COVID-19?
Coronaviruses are a large family of viruses that are common in people and many different species of animals, including camels, cattle, cats, and bats. Rarely, animal coronaviruses can infect people and then spread between people such as with MERS-CoV(link is external), SARS-CoV(link is external), and now with this new virus (named SARS-CoV-2). The virus that causes COVID-19 is spreading from person-to-person in China and some limited person-to-person transmission has been reported in countries outside China, including the United States. However, respiratory illnesses like seasonal flu, are currently widespread in many US communities.
Symptoms of COVID-19
Reported illnesses have ranged from mild symptoms to severe illness and death for confirmed coronavirus disease 2019 (COVID-19) cases.

Symptoms may appear 2-14 days after exposure*:
Fever
Cough
Shortness of breath
*This is based on what has been seen previously as the incubation period of MERS-CoV viruses.

Call your healthcare professional if you develop symptoms, and have been in close contact with a person known to have COVID-19 or if you have recently traveled from an area with widespread or onging community spread of COVID-19.
What Should Employers Do?
The Center for Disease Control and Prevention (CDC) is encouraging businesses to begin preparations for the spread of the Coronavirus in the United States. In order to assist you in these preparations, you are encouraged to...See all of our Coronavirus resources here.

The Associated General Contractors of America recently announced that the Trump administration released new guidance that now allows firms with 500 or fewer employees to qualify for the new Paycheck Protection Program Loans. Association officials noted that the administration released the new guidance after the association raised concerns over the weekend that many firms that employ 500 or fewer employees appeared to be excluded from the program.

"Administration officials have done the right thing and revised their guidance to allow, as Congress intended, for firms that employ 500 or fewer people to qualify for the Paycheck Protection Program loans," said Stephen E. Sandherr, the Association's chief executive officer. "This change means the program is now more likely to help smaller firms continue to operate and retain staff."

On April 2, the Small Business Administration issued an "interim final rule" to the effect that a business must have 500 or fewer employees and fall below the agency's small business size standards—which for construction businesses are generally determined by an average annual income threshold, not number of employees threshold—in order to qualify for the new Paycheck Protection Program. Congress, however, declared that the program shall be open to all businesses that have... Read full article here.

As we're all aware, the construction industry has been declared an essential business to Wisconsin, vital to maintaining our essential infrastructure. This is a role that our men, women and contractors take very seriously and are doing everything necessary to keep all personnel safe and jobs open. Through these difficult times, the construction industry is doing its part to help the community, the economy and everyone impacted by this crisis.

On March 24, in Emergency Executive Order #12, Gov. Tony Evers reached the difficult decision of ordering residents to stay at home, a shelter-in-place move designed to curtail the spread of COVID-19, an effort intended to save lives. To avoid a complete shutdown of our economy and society, essential infrastructure was exempted. And, as a result, the construction industry... Read full article here.

Construction projects of all types, from historic building restorations to modern manufacturing facilities, are still making progress in southeast Wisconsin despite the COVID-19 pandemic that has shut down many southeastern Wisconsin businesses.

Members of the real estate and construction industry had pushed for the right to continue working through the statewide stay at home order. Gov. Tony Evers' order allowed it, and developers who are still working emphasized safety precautions their contractors are adopting. Other major southeastern Wisconsin projects moving forward include BMO Tower in downtown Milwaukee and R1ver on Milwaukee's near south side.

That includes at Foxconn Technology Group's Wisconn Valley development in Racine County. Led by construction manager joint venture Gilbane Building Co.|Exyte, contractors are enforcing social distancing between workers, including limits on meetings and additional break areas, according to an emailed statement from Foxconn Technology Group.

There's additional cleaning and "constant communication between site management, trade contractors and workers regarding stay at home policies for anyone not feeling well or who is aware they have been in contact with or exposed to persons who may be COVID-19 positive," according to the statement.

Lead contractor JP Cullen has adopted new safety practices for the very different project of restoring...Read full article here.

In This Issue
Contact Us
Newsletter Tools