Every two years the AGC staff develops the "Building Permit Fee Schedule" booklet to help you in bidding area projects.
The information is provided as a rough guideline and must be verified by the contractor user. Costs and fees change frequently. While care was used in assembling the data, it is based on information furnished by each municipality, just prior to the time of publication.
AGC of Greater Milwaukee assumes no responsibility for the accuracy of the data and makes no warranties, either expressed or implied, as to its validity.
Independent Inspections Ltd.
The following communities currently use a service called Independent Inspections Ltd.
Bayside
Big Bend
Elm Grove

The fee schedule for these local units of government is based on what Independent Inspections Ltd. Charges for services to them.
AGC Membership Discount Program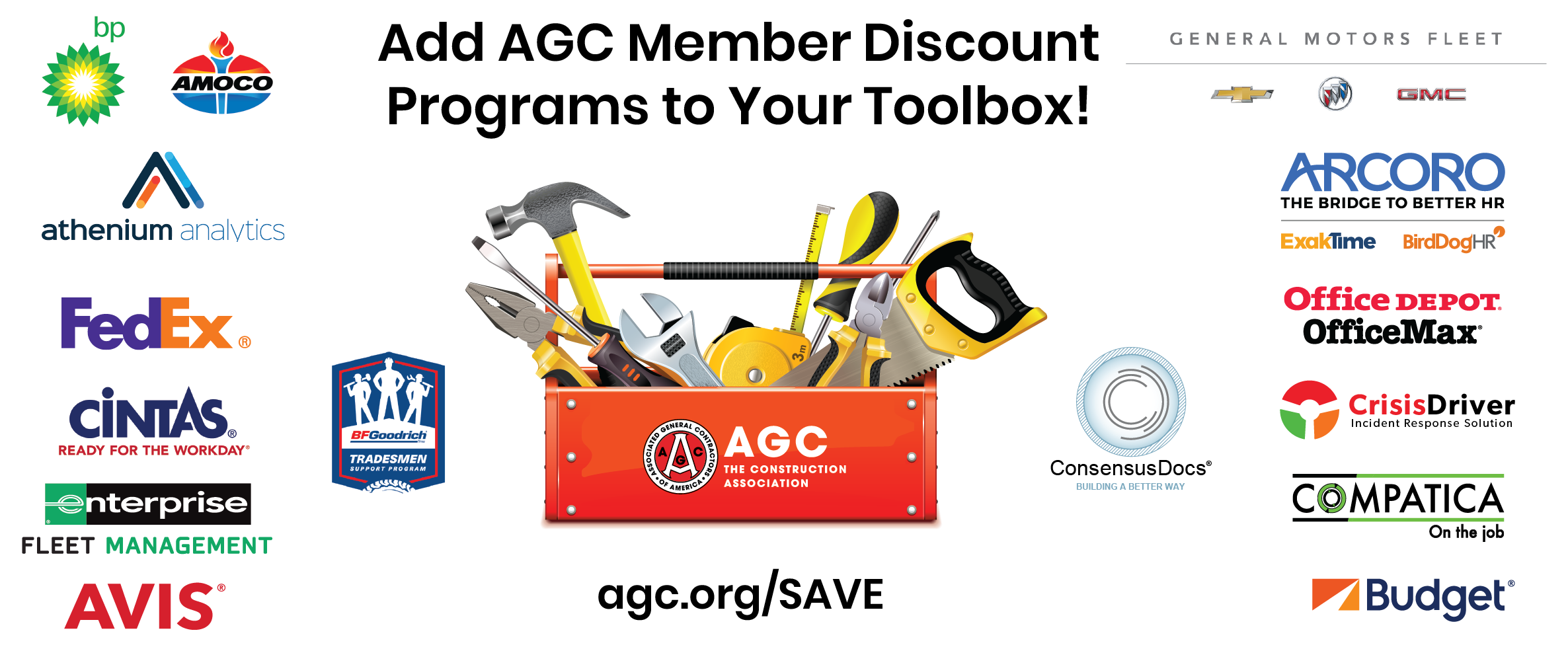 AGC's Membership Discount Program's provide members access to high-quality services, cutting-edge technology and top-of-the-line products. From discounts on vehicles to office supplies to cloud-based construction management solutions, AGC has partnered with some of the best to give you the most for your money and improve your daily business operations.
When it comes to your company's bottom-line, your membership in AGC pays dividends. These value added discounts will give you the competitive advantage over your competition.
Vehicles & Fleet Management:
Fuel, Materials & Equipment:
See our full Membership Discount Program offerings here.

Tell the Trump Administration and Congress to fix Paycheck Protection Program (PPP) Loans to Save Construction Jobs
URGENT ACTION ALERT
Tell the Trump Administration and Congress to fix Paycheck Protection Program (PPP) loans to save construction jobs. Confusing guidance from the Treasury Department and the Small Business Administration (SBA), and inflexible rules written by Congress threaten the ability of construction businesses to access, hold onto, and use PPP loans to protect construction jobs.

Unless the Trump Administration provides clearer, well-defined guidance about who qualifies for PPP loans, and how exactly these loans can be forgiven, many construction firms will face the difficult decision of returning their loan funds and cutting staff, or keeping the loans and risking a government audit. Similarly, Congress needs to waive the affiliation rules for loan eligibility and provide maximum flexibility for loan forgiveness to help protect construction jobs now and later.

Click the "Take Action" button below and simply submit the pre-written message as is to President Trump, U.S. Treasury Secretary Mnuchin, Small Business Administrator Carranza and your members of Congress or customize it with personal information on how this issue impacts you and your employer.
At AGC's urging, the Trump Administration rightly extended its initial deadline for encouraging firms to return their PPP loans from May 7 to May 14 without penalty. However, giving firms more time does little to protect jobs or support construction firm PPP loan borrowers unless the administration also clarifies recent, confusing guidance. Such new guidance should avoid one-size-fits-all industry standards, but rather standards that are flexible for all industries, including the uniqueness of construction that:
Preserves some levels of current business activity as a safe and essential industry despite significant future market uncertainties;
Maintains considerable lines of credit for undertaking labor, materials and equipment intensive projects, to obtain and maintain required bonding capacity, and meet day-to-day cash flow needs amid uncertain owner financial means; and
Faces uncertain legal liabilities that may threaten business operations in the short-term and long-term.
Such reasonable clarity along with revisions to blanket federal audits—which sweep up good actors in with the bad—will help ensure that construction jobs are protected under this program as Congress intended.
Similarly, Congress can amend the Coronavirus Aid, Relief, and Economic Security (CARES) Act to provide reasonable accommodation for the construction industry by waiving the SBA's complicated affiliation rules for PPP loan eligibility and allowing maximum flexibility in loan forgiveness. Congress should amend the CARES Act PPP loan provisions to allow such loan forgiveness flexibility by:
Expanding the period for which loan money must be used to more than eight weeks;
Allowing businesses to choose when to commence that period based on market realities instead of when loan proceeds are received; and
Revising the confusing forgiveness loan reduction formula in statute to provide additional flexibility for employers.
Taking action is easy. Simply click the above button to submit the pre-written message as is or customize it with personal information on how this issue impacts you and your company. If you would like to forward the alert to colleagues and friends, please wait for the instructions that will be included in the confirmation email after you take action.
Updated COVID-19 Isolation Release Times
The CDC and DHS have updated the COVID -19 isolation and release times for people that have been diagnosed with and people that have been tested and are awaiting test results for COVID-19. The self-isolation release time has been increased from 7 to 10 days. If you have employees self-isolating please contact your county health department to make sure your employees are self-isolating for the recommended amount of time.
If you have been tested for COVID-19 and are awaiting test results, you should self-isolate and self-monitor in order to protect yourself and your community from COVID-19. You should follow these recommendations for at least 10 days since symptoms first began AND for at least 3 days after symptoms resolve. If you receive a negative test result, you should follow these recommendations until at least 24 hours after your symptoms resolve (no fever and improvements in other symptoms)
Link to DHS Website
https://www.dhs.wisconsin.gov/publications/p02599.pdf

Link to CDC Website
https://www.cdc.gov/coronavirus/2019-ncov/if-you-are-sick/steps-when-sick.html
Being diagnosed with COVID-19 can mean that you had a positive lab test or a doctor told you that you had COVID-19. If either of these situations occurred, you should practice self-isolation and self-monitoring in order to protect yourself and your community from COVID-19. You should follow these recommendations for at least 10 days since symptoms first began AND for at least 3 days after symptoms resolve.
Link to DHS website
https://www.dhs.wisconsin.gov/publications/p02627.pdf

The coronavirus pandemic has prevented countless people from fulfilling their contracts, from basketball players to babysitters.

Could all of these people be sued for breach of contract, or are they excused due to this extraordinary event? What about payments made in advance, such as tickets bought for a concert that has now been canceled or a dorm room leased at a college that is now closed?

Wars, floods and other pandemics have undermined innumerable contracts over the years. In response, U.S. courts have established a fairly clear set of legal rules to answer these questions.

As a contracts-law professor, I help future lawyers think through how these rules apply in a wide range of situations. Some of these concern what the law says about contracts that are impossible to meet during pandemics.

The rules of impossibility and restitution

A promise given in exchange for money becomes an enforceable contract, and it remains enforceable even if living up to its terms turns out to be...Read full article here.

AGC of America's Upcoming Webinars
The AGC of America offers web based education throughout the year on various topics related to the construction industry. These topics range from newly released industry regulations to innovative processes and technology that can benefit your company. AGC's WebEd program will deliver the information you need to the comfort of your home or office.

Upcoming WebEds

AGC's Three Part Webinar Series: Business Development, Marketing & Proposal Basics for the General Contractor
Tuesday, May 12, 2020 - 2:00pm to 3:00pm, Tuesday, June 23, 2020 - 2:00pm to Tuesday, July 28, 2020 - 3:00pm
Training/Professional Development


WebEd: AGC Member Discount Program: Meet Cintas's Uniform, Facility, First Aid Safety and Rental Solutions
Thursday, May 14, 2020 - 2:00pm to 3:00pm
Safety and Health
Learn more about the AGC's web based education options
here
.
The Milwaukee Business Journal recently sat down with representatives of the Construction Labor Management Council (CLMC) to talk to them about their labor-management partnership in Building Advantage and how they're working together to create construction careers and a sustainable workforce infrastructure. Building Advantage Co-Chair and National AGC Director, Kevin O'Toole (Hunzinger Construction), participated on the panel and gave great insights into the creation of Building Advantage, its principle players, RPP and much more! Read article here.
The CLMC/Building Advantage recently appointed a new Executive Director, former AGC Legal Council, Nathan Jurwoski, and has been working hard with the help of AGC Members Kevin O'Toole and Rupert Kotze to positively effect the industry and find solutions for some of its biggest problems. Along with engaging with industry stakeholders, developers, architects, and public officials, Building Advantage has been working on making the Building Advantage brand more visible. From establishing an eNewsletter, writing pieces for the Daily Reporter and growing their social media channels, Building Advantage has never been more present in the industry.
They have also recently developed a new Building Advantage website that has greatly improved their efforts in workforce development/recruiting for the industry. With sections helping potential new workers learn about apprenticeships, the employment process, basic requirements and benefits, the Building Advantage website has helped create a larger and more informed workforce.
Building Advantage promotes union commercial construction as a first choice on behalf of union members and the contractors who employ them. Their Member Stakeholders deliver quality construction projects, on time, on budget and safely. They do this through investment in their people, their companies and their industry.

Building Advantage was created by the Construction Labor Management Council of Southeast Wisconsin to actively promote the benefits of hiring union construction contractors and trades people. Building Advantage is comprised of thousands of trades people, hundreds of contractors and five management associations.
Subscribe to Building Advantage newsletter by contacting Nathan Jurowski at njurowski@buildingadvantage.org.
Learn more about Building Advantage by visiting their new website here.
In This Issue
Contact Us
Newsletter Tools