AGC Members Celebrate National Safety Stand-Down Week
AGC members all across milwaukee recently celebrated AGC Safety /National Safety Stand-Down Week. Construction companies reinforced and celebrated our shared commitment to safety with safety meetings, equipment demonstrations, job tours and more. Check out how some of our members celebrated below:
Gilbane - Vendors came to Foxconn Site and set booths up to show their safety equipment during breaks and lunch
Mortenson and Lighthouse Safety - With fall protection demonstrations and informative talks, employees were able to see the forces that are exerted on the body during a fall and how having the right equipment and making sure it is fitted properly can save your life
AGC Announces 2019 Safety Award Winners
The AGC of Greater Milwaukee celebrated safety week by announcing and distributing our Milwaukee Construction Industry Safety Council's (MCISC) annual Safety Awards. Normally given out during our Past Presidents and Awards Night, this years award winners received their plaques during AGC Safety Week. These awards are given to AGC Members who took our MCISC Annual Safety Survey and reached goals in specific categories. See winners below.
Leadership in Safety Award - Corporate
A.J. Heinen, Inc.
CG Schmidt, Inc.
Creative Constructors LLC
J. P. Cullen & Sons, Inc.
Kraus-Anderson Construction Company
Mortenson Construction
Stier Construction Inc.
VJS Construction Services
Leadership in Safety Award - Associate
Balestrieri Environmental & Development, Inc.
Building Service Inc.
Common Links Construction LLC
CornerStone One, LLC
David J. Frank Landscape Contracting, Inc.
Doral Corporation
Erin Construction Inc.
Gateway Concrete Forming Systems Inc.
Hetzel Tile & Marble, Inc.
J.F. Ahern Co.
KMI Construction, LLC
Langer Roofing & Sheet Metal Inc.
Lippert Flooring & Tile
OMNI Glass and Paint
Pieper Electric Inc.
Pioneer Roofing, LLC
Professional Construction Inc.
Red Cedar Steel Erectors
Sanchez Painting Contractors
Sid Grinker Restoration
Softer Lite Window Company
State Painting Company
The Rockwell Group
Total Mechanical, Inc.
Wall-tech, Inc.

President's Safety Excellence Award - Over 300,000 - Corporate
Gilbane Building Company
President's Safety Excellence Award - Over 300,000 - Associate
J.M. Brennan, Inc.
President's Safety Excellence Award - 100,000 to 300,000 - Corporate
Hunzinger Construction

President's Safety Excellence Award - 100,000 to 300,000 - Associate
Olympic Companies, Inc.

President's Safety Excellence Award - 50,000 to 100,000 - Corporate
Berghammer Construction Corp.

President's Safety Excellence Award - 50,000 to 100,000 - Associate
Willkomm Excavating & Grade, Inc.
President's Safety Excellence Award - Under 50,000 - Corporate
Kotze Construction Co., Inc.
President's Safety Excellence Award - Under 50,000 - Associate
Dairyland Energy Solutions, Inc.
Congratulations JF Ahern!
After a review of more than 50 entrants to ENR Midwest's Annual Top Specialty Contractors rankings, JF Ahern of Fond du Lac, Wis., was recently voted ENR Midwest Specialty Contractor of the Year by the ENR editors.
JF Ahern is a mechanical, sheet metal, electrical, plumbing and fire protection contractor that did 2019 business in 10 states of the 11-state region.
Learn more about JF Ahern's work and why they were selected below:

JF Ahern's Past Lights The Way to bright Future
Engineering News-Record - Annemarie Mannion

JF Ahern a pipe fabrication, Mechanical, fire protection and building automation specialty contractor for commercial and industrial projects, has stood the test of time and been named ANR Midwest's 2020 Specialty Contractor of the Year.
Founded in 1880, the company has 1,400 full-time employees. Based in Fond du Lac, Wis., the firm also has 14 offices throughout the the upper... Read full article here.
Industy Partner Selected as a Beneficiary for the She Builds's Zoom-Hosted Event
Industry Partner, WRTP/BIG STEP, was selected as a beneficiary for the She Builds's Zoom-hosted event, "She Builds…A Brighter Future." This event was held on September 17th and was led by Chicago Women in Trades Shop as they demonstrated a virtual Steampunk Lamp Building session. All proceeds from this event were be shared by WRTP/BIG STEP and Chicago's Polished Pebbles.

Thank you to the AGC Members who sponsored the event: Berghammer Construction, CG Schmidt, Gilbane, J.M. Brennan, and Mortenson all of which helped contribute to the very generous $9,000 gift.

WRTP | BIG STEP is a 501(c)3 nonprofit workforce intermediary dedicated to connecting people to family-sustaining jobs. Our mission is to enhance the ability of public and private sector organizations to recruit, develop, and retain a more diverse, qualified workforce in construction, manufacturing and emerging sectors of the regional economy. Learn more about WRTP | BIG STEP here.
AGC Sponsor Marquee Industry Event
The Daily Reporter's 21st annual Top Projects
The AGC of Greater Milwaukee was proud to be a Bronze Sponsor for The Daily Reporter's 21st annual Top Projects. This event recognized outstanding achievements by Wisconsin builders, owners, engineers, architects and more. Along with honoring these outstanding achievements they also unveiled the "Best in Show" from 2019, as chosen by a panel of industry executives, as well as the People's Choice award.
See replay of the Top Projects Below!
Congratulations to all the Winning Projects!
Al Hurvis/PEAK Transportation Center
Arts@Large
Aurora Health Care – 84th Street Clinic
Brookfield Reserve
Brown County STEM Innovation Center
Community First Champion Center Fox Cities
Dwight and Dian Diercks Computational Science Hall
Elaine's Hope Lutheran Home Memory Care
Foxtown Brewing Co.
Freedom House Expansion
Friendship Learning Center
Froedtert & the Medical Center for Wisconsin Center for Advanced Care Vertical Expansion
Froedtert Pleasant Prairie Hospital Medical Campus Surgery Expansion
Garver Feed Mill
Green Bay Railyards Building R
Gundersen Health System – Tomah Clinic
Hotel Indigo
Hudson High School
I-39/90 East Church Road to County AB
I-94 Mainline, N-S Freeway South and Central Segments
John Michael Kohler Arts Center
Lakefront Brewery – Kegnado
Landmark by the Rivers
Marquette Athletic and Human Performance Research Center
Marquette University Physician Assistant Building
MGS Class 8 Clean Room
Milwaukee Ballet – Baumgartner Center for Dance
Milwaukee Bucks Entertainment District
Milwaukee County Zoo African Elephant Exhibit
Milwaukee Tool Headquarters Expansion – Brookfield
No Studios
Oshkosh Corp. Global Headquarters
Potawatomi Hotel Phase II and Casino Infill Project
SECURA Insurance Headquarters
Sendik's Food Market at The Corners of Brookfield
Sentry Insurance, Corporate Headquarters Expansion
St. Francis Convent
Summit Credit Union Headquarters
Synergy at the Mayfair Collection
The Suites at University of Wisconsin-Eau Claire
The Walnut at Westlawn Gardens
Uline W5 Distribution Center
Union Grove High School Addition & Renovation
Verona Road (US 18/151) Project
Vim + Vigor
Waunakee Public Library
Wgemas
Wisconsin Evans Scholars
The AGC's Education Calendar - What You Can Learn in October
EDUCATION & SAFETY
TRAINING CALENDAR

October 2020
For a complete list of this semester's classes or to register for any classes,
contact our Education Director, Kim Jalalian at
kjalalian@agc-gm.org or (414) 778-4100

OSHA 30-Hour for Construction
October 6th, 13th, 20th & 27th
7:00 am to 3:30 pm
Corporate GC/CM - $320, Associate - $400, *CBA's - $450, Non-Affiliated IAP - $700
Dan Burazin, AGC of Greater Milwaukee
The OSHA 30-Hour training is designed for construction workers or managers with safety and health responsibilities. Students learn to identify common hazards found on construction sites, and develop strategies to prevent injuries. Although OSHA standards are discussed, this training emphasizes hazard identification, avoidance, control and prevention. Upon successful completion of this course, you will receive and OSHA 30-Hour card as proof of compliance with OSHA mandates.
Intended Audience: This course is intended for anyone within the industry who has a stake in jobsite safety, especially field crews.
Susan Harwood Crane Management
October 14th
8:00 am to 5:00 pm
Location: S.C. Johnson iMET Center
According to the Bureau of Labor Statistics (BLS), from 2011 to 2015, the Census of Fatal Occupational Injuries (CFOI) reported 220 total crane-related deaths, an average of 44 per year over this 5-year period with 42% of the fatal work injuries taking place in the private construction industry. The data also shows that specialty contractors and heavy and civil engineering construction accounted for the most fatalities involving cranes in private construction. AGC of America is pleased to offer this one-day training program based on OSHA standards and best practices to answer the need for quality training within the industry.
Topics Covered

Types of cranes
Crane hazards associated with assembly and disassembly
Lifting concepts
Rigging and wire rope
Signaling
Employee qualification and training
Maintenance, repair, and inspection requirements
And much more...
Foundations for Safety Leadership (FSL)
October 15th
4:30 pm to 6:30 pm
Corp. GC/CM - $35, Associate - $50, *CBA's - $60, Non-Affiliated IAP - $100
Dan Burazin, AGC of Greater Milwaukee
Everyone, from the company owner to the experienced foreman and new trainee/apprentice, needs to own safety and be a safety leader. The Foundations for Safety Leadership (FSL) course is designed to introduce construction workers, particularly those with supervisory responsibilities such as foremen, to safety leadership principles and give them the skills to be a safety leader who can help create and sustain safe and productive jobsites.
Mobile Elevated Work Platforms (MEWP)
October 21st
4:30 pm to 7:30 pm
Corporate GC/CM - $35, Associate - $50, *CBA's - $60,
Non-Affiliated IAP - $100
Dan Burazin, AGC of Greater Milwaukee
"Mobile elevated work platforms, also known as aerial lifts or MEWPs, are popular on a variety of job sites. The American National Standards Institute (ANSI) defines a mobile elevated work platform as "a machine/device intended for moving persons, tools and material to working positions," and consisting of a work platform with controls and an extending structure mounted on a mobile chassis. ANSI updated their A92 standards with new safe use, training and design requirements for MEWPs. If your company uses MEWPs, ANSI's new safe use and training requirements are now industry-standard best practices."
Basic First Aid/CPR/AED Training
October 26th & 27th
4:30 pm to 7:30 pm
Corporate GC/CM - $60, Associate - $70, *CBA's - $95,
Non-Affiliated IAP - $150
Gert Grohmann, AGC of Greater Milwaukee

Medic First Aid, CPR and AED training is designed specifically for the occupational first aid provider. This extremely valuable program will help employers comply with OSHA and other federal and state regulatory requirements for training employees on how to respond and care for medical emergencies at work. Two-year certification cards are issued upon completion of this course.
Intended Audience: This course is for any adult who wishes to become certified in First Aid/CPR/AED, especially those charged with the responsibility to respond in an emergency.
Crane Rigging Training
October 28th
4:00 pm to 8:00 pm
Corporate GC/CM - $70 plus $20 for materials, Associate - $85 plus $20 for materials, *CBA's - $100 plus $30 for materials, Non-Affiliated IAP - $160 plus $40 for materials.
Dan Burazin, AGC of Greater Milwaukee

In addition to qualified signalpersons and certified operators, the new OSHA crane standard requires employees who perform rigging operations to be "qualified." This course has been developed by the Crosby Group to assist employers in qualifying their personnel as "Qualified Riggers" as required in the new crane standards. The standard also requires an experience component which is not provided in this course. Note: This course is four hours in length. To receive a card verifying their attendance in this class, attendees must be present the entire four hours.
Qualified Crane Signalperson Training
October 29th
4:30 pm to 7:30 pm
Corporate GC/CM - $35, Associate - $50, *CBA's - $60, Non-Affiliated IAP - $100
Dan Burazin, AGC of Greater Milwaukee

OSHA requires you to meet new requirements under the Crane Standard for Construction Operations – Subpart CC. Effective November 10, 2018, anyone performing crane signals on a construction site has to be "qualified." For your employees to fit into this category, they must: be competent in the application of the types of signals used, have a basic understanding of crane operations and limitations, know and understand the new crane standard as it applies to signaling, and demonstrate all of the above through testing. This new course will help contractors meet their obligations under this newly revised standard.
For a complete list of this semester's classes or to register for any classes,
contact our Education Director, Kim Jalalian at
kjalalian@agc-gm.org
or (414) 778-4100

October 13th - 15th

The CLC Leadership Development Conference brings together emerging construction leaders from across the country in various construction sectors to network, learn, and share. Mid-level professionals will have the opportunity to develop their leadership skills and gain information on CLC best practices and how to grow local CLC groups.
Time To Focus On The Areas Where You Need Growth Right Now
This year's CLC Leadership Development Conference is quick and impactful. Focused on areas that will make you more competitive than your peers, we are giving our best tips and tricks on how to put your best foot forward in a virtual world. Dip in and watch the specific talks you need to transform your business or catch them all. It's all here and up to you!
The AGC of America offers web based education throughout the year on various topics related to the construction industry. These topics range from newly released industry regulations to innovative processes and technology that can benefit your company. AGC's WebEd program will deliver the information you need to the comfort of your home or office.

Upcoming WebEds

WebEd: Keep Your Team Connected: Sharing Virtual RFIs and Construction Documents with Everyone


Wednesday, October 7, 2020 - 2:00pm to 3:00pm
Technology
Tracking drawing changes, RFI submittals and responses, and the thousands of other types of design/build documents that go into a modern construction project can be an administrative nightmare. The solution isn't always a massive, and expensive, construction management system. Sometimes, the answer is just understanding how you can use the Cloud to host and give access to all your files from one location.

WebEd: What General Counsels are Thinking to Navigate Obstacles and Achieve Company Success
Wednesday, October 14, 2020 - 2:00pm to 3:00pm
Training/Professional Development
General Counsel from some of the largest General Contractors in the Unite­d States will share their personal insights and suggestions for construction attorneys and litigation support experts. You will learn what is most appreciated in the services they receive and what sticks in their crawl. What are specific examples where in-house appreciate an outside counsel taking initiative and times when actions or firm practices are not well received by the general counsel or construction company's c-suite management.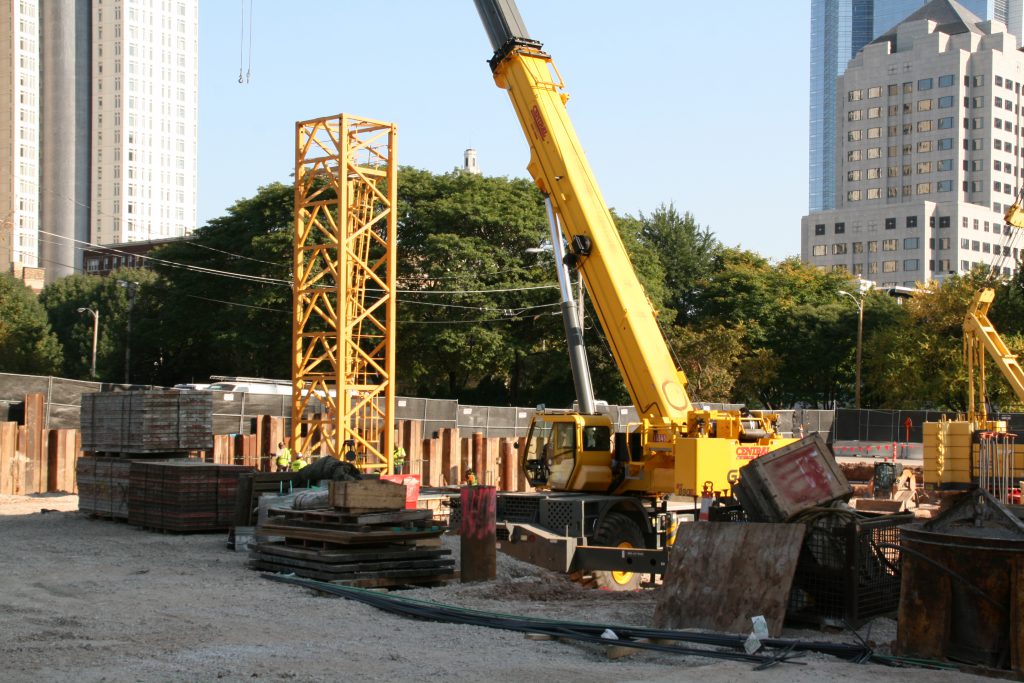 It's just a hole in the ground now, but in the coming months a new structure will emerge from the long-time parking lot at 700 E. Kilbourn Ave.

The 25-story apartment tower, to be known as Ascent, will be the world's tallest mass timber building.

Mass timber is an engineered product made by combining layers of lumber into a stronger material. The material is capable of building much taller buildings than conventional wood construction methods because it only chars (rather than burning through) in a fire and offers enhanced strength. Earlier this year a model unit passed a three-hour fire test. The building material is spreading quickly from Austria, where it was invented, and the Pacific Northwest, where it has been most commonly implemented in the United States.

The building will contain 259 apartments. A pool is planned on the sixth floor with fully operable windows. A sauna, steam room and entertainment center are also planned for what the firm is calling a...Read full article here.

In This Issue
Contact Us
Newsletter Tools