AGC E&R Foundation Advances Local ACE Mentor Program With $15,000 Donation
The AGC of Greater Milwaukee's (AGC) Education and Research (E&R) Foundation is pleased to announce a contribution totaling $15,000 has been made to the ACE Mentor Program's Milwaukee Chapter, an organization that introduces high school students to the wide range of career opportunities in architecture, construction, engineering, and related areas of the building design and construction industry. The AGC E&R Foundation's $15,000 donation serves as a testament to AGC's relationship with the ACE Mentor Program.
"In showing high school students from a range of backgrounds how fulfilling a career in construction can be, we are ensuring our industry has the talented, passionate, and innovative workforce needed to carry us into the future," stated AGC CEO Mark Kessenich. Of the $15,000 donation, $5,000 will be applied to the Program's operating expenses. The remaining
$10,000 will be used for scholarships awarded to students in the Program who demonstrate exceptional aptitude and desire to build a future in the construction industry and are looking to study in a related field at a post-secondary institution.

"We thrive upon partnerships like the one we've formed with AGC," said Tim Jones, ACE Mentor Program Board member and Vice President of Operations for Mortenson Construction "The ACE Mentor Program relies upon community and professional support in our mission to introduce high school students to the architecture, construction, and engineering industries."
Learn more about the ACE Mentoring Program here.

The AGC E&R Foundation was founded as a philanthropic organization in 1980 to promote the construction industry's education and research efforts. Since its establishment, the E&R Foundation's Board of Directors has awarded over $1 million in grants and scholarships to local schools and universities throughout southeastern Wisconsin.


AGC-GM Has Taken the Pledge to Create a More Inclusive Work Environment
Culture of CARE: Make the Commitment Now
The AGC of America recently launched its nationwide program to expand diversity in the industry. This program is called Culture of CARE and calls on firms to create a more welcoming workplace environment for people from diverse demographic backgrounds. See AGC's official news release on Culture of CARE here.

Construction firms are encouraged to sign a pledge create a more inclusive working environment and in return, AGC of America will provide training and suggested human resources practices that will help the firm put their desires into actionable plans. The AGC of Greater Milwaukee has taken the pledge to create a more inclusive work environment and we hope your company does too.


The Pledge includes adhering to the following CARE principles:


Commit to hire and pay based on skill and experience regardless of ethnicity, gender, nationality, race or religion.

Attract prospective employees by creating inclusive workplaces that are free from harassment, hazing and bullying.

Retain high-performing employees by identifying and removing barriers to advancement.

Empower every employee to promote a culture of diversity and inclusion.

AGC Members from around the country have become Impact Champions by taking the Culture of CARE pledge including a number of AGC-GM Members. We encourage your firm to join them in takeing the pledge and becoming an Impact Leader today!
| | |
| --- | --- |
| Construction Leadership Council News | |
AGC-GM Member Selected to Sit on National AGC Committee
We are excited to announce that CLC Chair, Christina Sladky (Hunzinger), was recently selected to serve on the National CLC Steering Committee!
Christina is now one of seventeen representatives from around the country and has agreed to serve a three-year term to this national advisory board. Along with monthly conference calls and bi-annually in-person meetings Christina will be participating in AGC of America Committees and will be playing a key role in developing and implementing important CLC initiatives.
Christina has been a great leader locally in Milwaukee and we're so proud of her selection to this national committee.
Congratulations Christina!
Featuring Alex Willis | March 18, 2021| 12:00PM - 1:00PM

The AGC-GM's CLC has partnered with the Chicagoland AGC's CLC and the AGC of WI for the upcoming CLC Lunch and Learn on Building our Personal Foundation, featuring Leadership Surge's Alex Willis.

Alex Willis, founder and CEO of Leadership Surge, is a dynamic speaker, motivator and innovator of corporate and frontline change management programming.
Willis honed his unique perspective during his college and professional career in football at the University of Florida and with the Tampa Bay Buccaneers. He founded Leadership Surge based on the belief that a great culture is built to last when every member of the team embraces winning values, behaviors and practices. For the last 15 years, Alex has worked directly with more than 1,500 executives, foreman leaders, and front-line team members embedding the values of diversity and inclusion in every area of the leadership mindset resulting in improved communication, engagement, productivity, creativity and job satisfaction.

VIRTUAL COURSE OBJECTIVES

Explore the concepts behind the 4 Lenses Personality Model

Identify the strengths, trouble spots, and observable characteristics of each of the 4 styles

Discover how to flex style in order to improve inclusion, communication, leadership and teamwork

Identify the style pairs most likely to experience conflict and those most likely to be compatible


Exclusive Speaker Sponsor
Two complimentary event tickets
Company recognition on Zoom background, on website event page, and in all social media /email promotion
Company representative to introduce leadership professional Alex Willis

CLC Kick-Off Breaks AGC's Virtual Attendance Record
Thank you to Everyone who Attended and Sponsored the 2021 CLC Kick-off! Over 75 people registered for the event, smashing our attendance record for AGC of Milwaukee ran virtual events.
Attendees of the CLC Kick-off heard an address by CLC Chair, Christina Sladkey (Hunzinger), updates from our student chapters, and a presentation on "Thriving Under Pressure" from Integrated Leadership System's Dr. Rebecca Morrissey. Dr. Mosrissey gave attendees an in depth understanding about what happens to our body when we are stressed and strategies on how we can manage stress and thrive when under pressure.
Thank you again to everyone who attended an supported the 2021 Annual CLC Kick-off
CLC Kick-Off Sponsors
Platinum

Gold

Silver

AGC's WebEd Program will Deliver the Information you Need to the Comfort of your Home or Office!
The AGC of America offers web based education throughout the year on various topics related to the construction industry. These topics range from newly released industry regulations to innovative processes and technology that can benefit your company. AGC's WebEd program will deliver the information you need to the comfort of your home or office.
UPCOMING AGC WEBINARS & CALLS
ELC Townhall: How 2020 Changed Meetings and Event Engagement & What the Future Holds
February 17, 2021
Time: Wednesday, February 17 at 2:00PM EST
Location: via Microsoft Teams*
*Anyone who is interested in participating in the meeting, and has not already received an invitation should contact Christi Beatty.

Discussion: AGC Union Chapter COVID Vaccine Discussion
February 23, 2021
Time: Wednesday, February 23 at 3:00PM EST
Location: via Microsoft Teams*
*Anyone who is interested in participating in the meeting, and has not already received an invitation should contact Jim Young.

Chapter WebEd: One AGC Chapter's Fight to Eliminate Opioid Use in the Commercial Construction Industry
February 24, 2021
Time: Wednesday, February 24 at 2:00PM EST
VIEW PROMO DETAILS
REGISTER

Member WebEd: Outlook for Construction Industry Priorities in Washington, D.C.
March 3, 2021
Time: Wednesday, March 3 at 2:00PM EST
Member Price: FREE
Non-Member Price: $49
VIEW PROMO DETAILS
REGISTER

AGC Chapter Townhall: The PRO Act, What Chapters Need to Know About It and How You Can Help Push Back
March 10, 2021
Time: Monday, March 10 at 2:00PM EST
Location: via Microsoft Teams*
AGC CEO Steve Sandherr as well as members of the AGC of America Government Affairs team will provide an overview of the recently-introduced PRO Act and explain how it will harm open shop and union contractors. He will then outline the steps AGC of America is taking to push back against the measure and lead a conversation about the role chapters can play in educating their members about the measure and helping push back against the legislation.
*Anyone who is interested in participating in the meeting, and has not already received an invitation should contact Christi Beatty.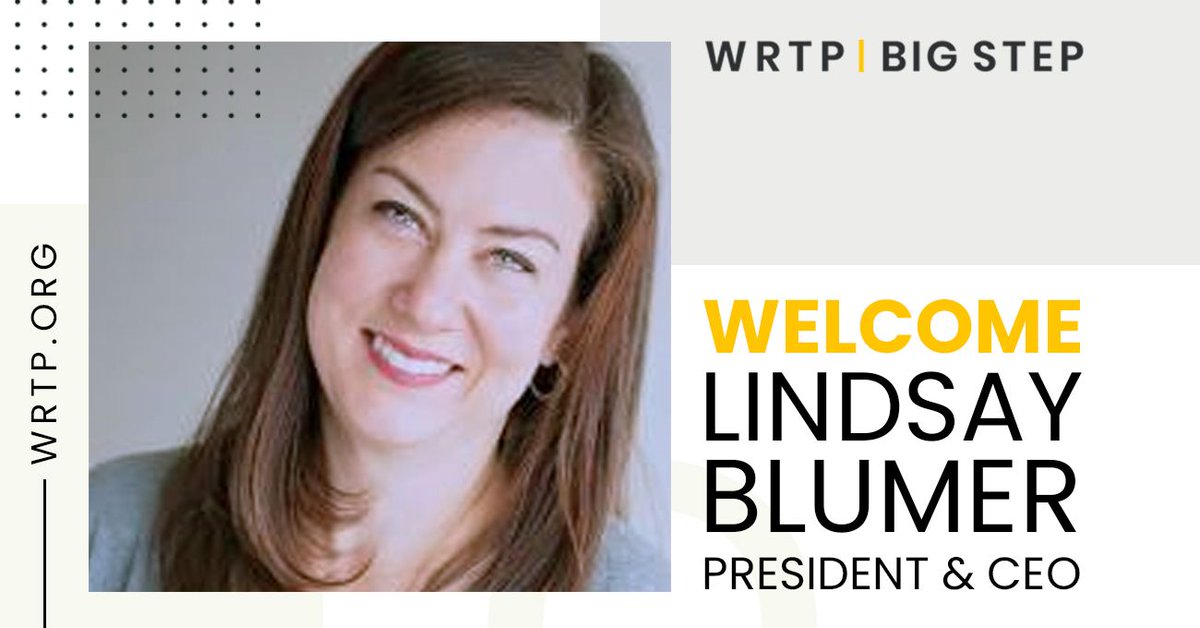 AGC industry partner WRTP | BIG STEP recently announced Lindsay Blumer as its new President & CEO. After conducting a sweeping national search, WRTP | BIG STEP selected Ms. Blumer to fill the position marking the first time in the nonprofit's history that a woman will hold the permanent position of President & CEO.

"We are pleased to welcome Ms. Blumer to the team and look forward to the fresh perspective she brings to our storied history," said the WRTP | BIG STEP Board of Directors in an official statement.

Ms. Blumer is a respected nonprofit organization professional with almost 20 years of experience in executive leadership, strategic planning, entrepreneurship, social enterprise, and innovation. Blumer has worked as a community fellow with United Way of America, designing community impact solutions, advising and developing state government advocacy and... Read full article here.



In This Issue
Contact Us
Newsletter Tools