Superior Court Justice Compels Disclosure of Peer Review Materials in Manslaughter Trial

Maine Superior Court Justice Joyce Wheeler last week compelled the release of confidential peer review records in connection with the manslaughter trial of Ernest Weidul. Justice Wheeler determined that certain documents contained in the professional peer review and sentinel event review files were relevant to defendant Weidul's Six Amendment rights of confrontation. The ruling was made over the strenuous objection of the attorneys representing the hospital and both MMA and the Maine Hospital Association issued a public statement criticizing the ruling which for the first time in thirty years opens up peer review records in a criminal trial.

The trial continues today in Cumberland County Superior Court. The Defendant Mr. Weidul is charged with manslaughter in connection with the beating and subsequent death of Roger Downs in December of 2011. After being beaten, Mr. Downs awoke the next day and then went back to sleep. He awoke later that afternoon and called 911. He was transported to Mercy Hospital and was eventually admitted to the inpatient unit where he stayed overnight and died the following evening. The state has alleged that Mr. Downs died from laryngeal edema caused by trauma sustained during the fight with Mr. Weidul. The edema manifested approximately 48 hours after the fight and, according to the state medical examiner, caused the death.
The defendant, through his attorney Thomas Connolly, now claims that Mr. Downs in fact suffered from streptococcal pneumonia in both lungs and that it was this undiagnosed pneumonia that caused the victim's death. Attorney Connolly sought internal documents from the hospital that would normally be privileged pursuant to two statutory privileges: 22MRSA 8754 (3), concerning sentinel event notification and reports, and 24 MRSA 2510-A, concerning professional competence review records. The provision in title 24 states that all professional competence review records are privileged and confidential and not subject to discovery, subpoena or other means of legal compulsion for their release to any person or entity and are not admissible as evidence in any civil, judicial or administrative proceeding. Attorneys for Mercy Hospital argued what MMA's position has been for years, that the reference to judicial proceedings includes a criminal trial.
Unfortunately, Justice Wheeler disagreed and found that the defendant's Sixth Amendment right guaranteeing a criminal defendant the right "to have compulsory process for obtaining witnesses in his favor" took priority over the peer review privilege. She wrote in her pre-trial order, Mr. Weidul's right to confrontation is implicated in Mercy's request because Mr. Downs was treated and died while a patient at Mercy Hospital and Mercy Hospital conducted reviews because of his apparently "unanticipated death."
The attorneys for the hospital appealed the ruling to the state's highest court on an interlocatory basis, but the law court refused to make overturn the order, stating that not all the requirements of an exception to the rule that appeals are only heard after a final judgment were met.
Given that the hospital is not a party to the case, it is not clear whether there will be an additional opportunity to appeal the ruling. If there is no further opportunity to get the case before the law court, the only recourse may be to go to the legislature in January to clarify the statute.
On Friday, MMA and the Maine Hospital Association released a statement to the media criticizing the breach of the peer review protections and supporting Mercy Hospital's work in connection with protecting the statute. The statement can be read in its entirety on the MMA website at www.mainemed.com (Spotlight section).
Political Pulse: Legislature Passes DHHS Budget, Includes Cuts to Coverage & Services

Voting 75-61 in the House and 19-14 in the Senate, largely along party lines, the Maine Legislature last Tuesday approved a Fiscal Year 2013 budget change package for the Department of Health and Human Services. The approved budget fills a $78.5 million budget gap for DHHS by, among other things, ending MaineCare coverage for young adults and some parents; reducing or ending Fund for a Healthy Maine dollars and MaineCare coverage for certain preventive services; and redesigning MaineCare coverage for opiates. It also finds some savings in other areas of government outside of the DHHS and includes several spending initiatives as well as income tax reductions. The changes go into effect August 14, 2012.
Of most interest to physicians the budget includes:
Eliminating MaineCare Coverage for children age 19-20 ($4.3 million, 7000 people) and for parents from 100-133% of the federal poverty level ($3.3 million; 14,500 people). Note that these cuts are unlikely to go into effect as these categories of coverage are protected by the Affordable Care Act and the federal government would need to approve a waiver request before the cuts are made.
Eliminating MaineCare Coverage for Ambulatory Surgical Centers ($77,697)
Eliminating MaineCare Coverage for Services provided at Maine's three STD Screening Clinics ($163,463) and for smoking cessation products ($179,095)
Raising income limits for participation in the Medicare Savings Plan & Drugs for the Elderly programs ($2.9 million). Note that the reductions to the Medicare Savings Program are also unlikely to go into effect due to the Affordable Care Act.
Reducing or eliminating Fund for a Healthy Maine funding for oral health, home visiting, family planning, child care services, and community school grants (Healthy Maine Partnerships and school based health clinics)($8.1 million)
DHHS reorganization ($842,932)
Imposing a 2 year limit on Methadone without prior authorization ($1.4 million)
Creating a Medicaid Stabilization Plan or 9 member task force to create a Medicaid program redesign ($5 million)
Primary Care - Mental Health integration through case managers at hospitals ($500,000)
Opiate Benefit Redesign - no additional savings budgeted but replaces the savings estimated in the 1st supplemental budget - please see more information on this proposal in the article immediately following.
Five amendments to the budget were proposed on the House floor, all by Democrats. Dr. Linda Sanborn introduced an amendment to restore the Fund for a Healthy Maine programs; other amendments would have restored cuts to MaineCare, Drugs for the Elderly and Home Visiting. After debate, the bill passed in both the House and Senate and Governor LePage signed the legislation May 16th. The legislature has now adjourned, although a session to take up any bills vetoed by the Governor is likely sometime after Memorial Day.
For the final votes and language of the budget click here. For a summary of the Republican proposal as passed out of the Appropriations Committee click here. A more detailed summary of the budget will be posted to the MMA website, www.mainemed.com, shortly.
NOTE: MMA LEGISLATIVE COMMITTEE CONFERENCE CALLS HAVE ENDED FOR THIS SESSION. The calls were quite well attended and we are very grateful to the physicians and specialty society staff who took time out of their busy evenings to review proposed legislation and share their comments with us. The MMA advocacy team could not be effective without your input. We hope you have a restful summer and fall and we look forward to our in-person meeting before the 2013 session begins.
For more information about our advocacy activities, please contact Andrew MacLean at amaclean@mainemed.com or 622-3374 x 214.
[return to top]
Changes to MaineCare Opioid Coverage Become Law

The budget approved by the Maine Legislature and signed by Governor LePage last week (see article above) contains a redesign of the MaineCare opiate benefit. The changes are made in response to the concern that proposals to restrict opiate coverage contained in the first supplemental budget were in conflict with federal law. The Department of Health and Human services does not expect additional savings from the new law but did book savings in the first supplemental budget that the Department still expects to achieve.
The new benefit design, which goes into effect August 14, 2012, includes:
A prescription for opioids for acute pain can now only provide for 15 days of medication. Then a face-to-face visit with the prescriber is required in order to get prior authorization for another 15-day prescription. After 45 days, if the opioid drugs are still medically necessary, a person may qualify for opioid drugs for long-term chronic pain with prior authorization. Note: 60-day prescriptions are allowed following surgery.
To get opioid drugs for chronic pain, the person must have:
MaineCare will establish through rulemaking acceptable alternative interventions, such as Cognitive Behavioral Therapy, Physical Therapy (up to 6 visits) or Osteopathic Manipulation Treatment. The department will also impose limits on the total amount of opioids allowed for a member who fails to have an adequate response to the prescribed treatment, subject to exception based upon medical necessity.
These new limits do not apply if the drugs are prescribed:
For symptoms related to HIV, AIDS, cancer and certain other qualifying diseases and conditions;

During inpatient treatment in a hospital or during hospice care;

At certain qualifying low doses;

For treatment of addiction, in which case the limits applicable to methadone and buprenorphine and naloxone combination drugs apply;

To people on the Medicare Savings Program (MSP) who are covered by Part D; or

To current users (MaineCare patients who have been on opiates consistently for six months prior to the effective date) until January 1, 2013. Prior to that time, it is hoped that MaineCare will develop rules that would exempt patients on small daily doses of the medication and exempt others by diagnosis or condition.

Second opinion: Prior to prescribing an opioid drug as part of a treatment plan for a member who suffers from one of the medical diagnoses known to typically have a poor response to opioid drugs, a prescriber shall obtain an evaluation from a physician from outside the practice of the prescriber.
Treatment pattern data: There is language in the budget that will allow the Prescription Monitoring Program to provide to prescribers their own prescribing information, compared to a peer group. If the prescriber is an outlier, he or she will be given an opportunity over time to bring their prescribing pattern into conformance with the peer group. If that is not achieved, the Department could take actions against the prescriber such as limiting their ability to participate in the MaineCare program.
The department will have to go through rule making to implement many of these provisions. For questions or to express an interest in participating in the rule making process, please contact Gordon Smith, MMA Executive Vice President at gsmith@mainemed.com or 622-3374 x 212.

MaineCare Physician Advisory Committee Meeting, June 14, 2012

The Physician Advisory Committee (PAC) is a core group of six MaineCare physicians facilitated by the MaineCare Medical Director. Presently this group meets on a quarterly basis. During the first half of the PAC meeting, current MaineCare initiatives are presented. For the second half of the meeting, MaineCare providers are invited to present issues in the community they would like MaineCare to address.
MaineCare would like to open its Physician Advisory Committee meeting to wider participation. Any provider interested in MaineCare initiatives may attend the meeting in person or by phone.
The next meeting will be held on Thursday, June 14, 2012 from 3:00-5:00pm in Conference Room 103A at the Cross State Office Building located at 111 Sewall Street in Augusta, Maine. The MaineCare topics for this meeting will be follow-up to March's Opioid discussion and Health Homes.
The conference call line is 1-800-394-6604, with passcode 959468#. If planning to attend in person, please reply to Charyl Malik at 207-287-3320 or charyl.malik@maine.gov .
[return to top]
Maine Physician Chosen as Childhood Immunization Champion

The United States Centers for Disease Control and Prevention announced this week that Dr. Lawrence Losey, a board-certified pediatrician at Parkview Adventist Medical Center in Brunswick, has been recognized as Maine's Childhood Immunization Champion. Dr. Losey was nominated by the Maine Center for Disease Control and Prevention and is the first Mainer to earn this distinction.

We are fortunate to have someone of Dr. Losey's caliber championing the causes of Maine's children. His passion to ensure that all Maine children are properly protected against diseases is both admirable and inspiring," said Dr. Sheila Pinette, Director of the Maine CDC.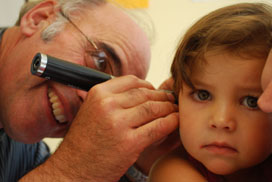 Dr. Lawrence Losey at work
Dr. Losey has published dozens of articles and helped launch Medical Minutes that air on several radio stations in Portland. His segments on childhood immunizations provide an important education for those concerned with immunizing their children.
Dr. Losey earned his medical degree from Loma Linda University (California). He finished his pediatric resident training at Maine Medical Center in 1979. Since then, he has worked tirelessly to ensure that Maine's children are protected from vaccine-preventable diseases.
In the late 1990s, Dr. Losey tapped into his experience with private insurance companies and spearheaded efforts to build a bridge connecting private insurance companies with the Maine CDC Immunization Program to supply most of the early childhood vaccines to all Maine children. For more than seven years he served as a mediator, navigating the way for both the public and private sectors.

Please join the MMA in thanking Dr. Losey for his work improving the health of all Maine children.
[return to top]
Let MMA Train Your Staff on HIPAA, June 1, 2012

The Annual HIPAA Update is traditionally MMA's most popular First Fridays' program and this year it will be presented on Friday, June 1st from 9:00 am to noon. The faculty this year includes Stacey Mondschein Katz, J.D., of SMK Consulting Services, LLC, and MMA's three in-house attorneys, Andrew MacLean, Jessa Barnard and Gordon Smith.
The agenda for the morning follows:
8:30am Breakfast and Networking
9:00am Welcome, Introduction and Overview of State and Federal Privacy Law and HIPAA Regulations, Gordon Smith, JD
9:30am HITECH Regulations, Mental Health Rules and Preparing for an HHS Audit, Stacey Mondschein Katz, JD
10:30am Break
10:45am Special Privacy Rules: Minors and HIV, Jessa Barnard, JD and Andrew MacLean, JD
11:30am Summation and Q & A, All presenters, moderated by Mr. MacLean
MMA's sample Notice of Privacy Practices document, consent forms and release forms are currently being updated to comply with the HITECH regulations and will be made available to program participants.
This program is ideal for your annual HIPAA staff education or for training new staff. There is a $65 fee and registration is available on the MMA website at www.mainemed.com. A HIPAA Training Certificate will be presented to each participant and CME has been applied for.
Members and practice managers are also reminded that MMA attorneys are available to come to the practice site to provide this program. Normally, a $200 fee is charged for an on-site program which can be one hour or more if the practice is able to commit that much time to the education.
Any questions about the MMA's educational offerings can be directed to either Gordon Smith, EVP at gsmith@mainemed.com or Gail Begin via e-mail to gbegin@mainemed.com. [return to top]
Free In-Office Atypical Antipsychotic Education Available Through MMA's Academic Detailing Program

Request a free educational session on the topic of your choice:
atrial fibrillation, chronic pain management & (coming soon) atypical antipsychotics
The Maine Independent Clinical Information Service (MICIS) is an innovative service that provides independent, evidence-based prescribing information directly to health care providers in the convenience of their own practice setting (also called "academic detailing").
CME is available at no cost.
For more information, or to schedule a visit with one of our clinician-academic detailers (Erika Pierce, PA-C, and Elisabeth Fowlie Mock, MD), call the Maine Medical Association today at 207-622-3374 x 211 or email academicdetailing@mainemed.com. Sessions can be tailored to meet your needs and range from one-on-one visits with a prescriber to an entire medical staff and typically last 45 minutes to an hour.
[return to top]
DHHS Announces Final Rules Amending Medicare Conditions of Participation Regarding Medical Staff

The federal Department of Health and Human Services announced late last week that it would publish the final rules changing Medicare Conditions of Participation regarding medical staff issues this Wednesday, May 16th. While they will be published in final form in the Federal Register, a prepublication copy is available here.
The final rules contain changes in the provisions relating to medical staff and hospital governance, medical staff membership and privileges for non-physician practitioners and related issues. The American Medical Association and many other medical associations had filed written comments on the draft rules expressing concern about a number of the provisions. At first glance, medical staff attorneys around the country are reporting that the final regulations are somewhat improved from the proposed rules.
As a direct result of AMA advocacy, the final rule makes the following improvements:
The proposed concept of a single medical staff for a multi-hospital system has been removed.

The proposed concept of the privileging of physicians without appointment to the medical staff has been removed.

A hospital's governing body must now include at least one medical staff member.

The proposed concept of credentialing for medical staff membership in accordance with"hospital policies and procedures"has been removed; the final rule defers to state law and "medical staff bylaws, rules, and regulations."

The mandatory inclusion of non-physician practitioners on medical staffs strongly proposed by several other groups (e.g., American Nurses Association, AARP) was not adopted.
The final rule also retains several provisions from the proposed rule. A number of these, including the elimination of the current requirement that verbal orders be authenticated within 48 hours, were supported by the AMA. However, several AMA-opposed proposals were also finalized.

Further analysis will be presented in upcoming issues of the Weekly Update.
[return to top]
MMA Senior Section Meeting May 23rd Looks at the Future of State Medical Societies

MMA's Senior Section has met quarterly for the last several years and has examined issues ranging from medical marijuana to physician impairment. Next week's meeting, on Wednesday (11:30am-1:30pm), May 23, will feature a presentation on the changing role of state medical associations by Scott Colby, Executive Vice President of the New Hampshire Medical Society and myself. Mr. Colby is in his second year in the position, having followed Palmer Jones who served in the role for over two decades. Any MMA member, whether retired or not, is invited to attend the session, but please RSVP to Lisa Martin at lmartin@mainemed.com so that we can be sure to have enough lunch for everyone.
State medical societies across the country are struggling to keep up with the pace of change in health care, while many are still stuck in a governing structure adopted in the middle of the 19th century. The Maine Medical Association has undergone significant change in the past decade, beginning with the de-unification of the county medical societies and the elimination of a traditional House of Delegates in 2003. The changes continued with a new set of bylaws adopted in 2011 which eliminated any geographic limitations to election of members of the Board of Directors. The membership model of only individual physicians joining the Association is also being examined for its appropriateness in a time when many physicians are choosing to practice in health care systems. Given the trends, MMA has also been reviewing and changing the services it offers to members. The New Hampshire Medical Society has also been examining its present structure and services. Please join the MMA on the 23rd as we share with you this essential part of our work on behalf of the physicians of Maine and New Hampshire. [return to top]
Upcoming Events & Conferences

Integrating Mental Health with Medical Practice
Friday, June 1, 2012
9:00 am - 4:30 pm
Viles Arboretum, 153 Hospital Street, Augusta, ME
This day-long conference includes presentations, panel discussions and work groups to help attendees understand key questions underlying integration of care.

For more information, or to register, click here.
***
22nd Annual Maine GERIATRICS Conference
June 7-8, 2012
Harborside Hotel & Marina, Bar Harbor, ME
Registration Open. CME Available.
For more information or to register visit http://www.une.edu/com/cme/
***
Save the Date:
Medical Mutual Practice Manager Seminar:
Caring for our Seniors - Complex medical & liability issues
June 13, 2012
DoubleTree by Hilton Hotel, South Portland, ME
***
Save the Date:
CMS Region 1 National Medicare Training Program 2012

August 7-9, 2012
Sheraton Framingham Hotel and Conference Center, Framingham, MA

Information about key aspects of Medicare, Medicaid, Children's Health Insurance Program (CHIP), and pertinent legislation

More information to be distributed via CMS later in May
***
Maine Immunization Program Regional Trainings
July 27, 2012 – Houlton Regional Hospital – Houlton
August 3, 2012 – Hilton Garden Inn – Bangor
August 9, 2012 – Fireside Inn – Portland
Augusta 10, 2012 – Maine Principals Association – Augusta
Open to all health professionals responsible for managing and supporting childhood vaccine programs including physicians, nurse practitioners, physician assistants, and practice managers.
For more information or to register, click here. [return to top]
Job Openings - Primary Care Physician, Hospitalist NP/PA

Lifestyle Position/Primary Care Physician - Augusta, Maine
Board Certified Internal Medicine or Family Practice Physician sought for full-time staff Primary Care Physician position based at the Riverview Psychiatric Center in Augusta, Maine. Responsibilities primarily involve providing basic primary care services to a caseload of approximately 45 patients. Enjoy working regular 40-hour workweeks in a collegial environment. No third party insurance billing, no evenings, no weekends, and no-on call responsibilities. Offering $170k per year, pay by direct deposit on the 15th of each month, 37 paid days off annually, and paid liability insurance. For additional details contact Ian Castronuovo at (610) 389-7430 orianc@libertyhealth.com.
05/28/12
Hospitalist Nurse Practitioner/Physician's Assistant Position Openings
Sebasticook Valley Health (SVH) a system of healthcare services including a Joint Commission Accredited 25 bed Critical Access Hospital located in Pittsfield, Maine is looking for two full-time nurse practitioners or physician assistants for our expanding hospitalist program.

The qualified candidate will feel comfortable responding to ED admissions, managing inpatient medical care including proper documentation, meeting with Care Coordinators and Utilization Review staff on a daily basis and performing procedures, as well as assisting the Emergency Department as appropriate. The current schedule is 3 to 4 days per week, including weekend rotations, 4PM to 10PM with on-call.

The Hospital serves a population of 30,000 and offers primary care, specialty services and emergency services in addition to inpatient care. SVH is one five rural community hospitals which along with Eastern Maine Medical Center, a level 2 trauma center, comprise Eastern Maine Healthcare System.

The town of Pittsfield is a safe and pretty community with a good school system. The Maine Central Institute, a prestigious college preparatory school is a prominent part of the landscape. Pittsfield is conveniently located for easy access to the mountains, nearby lakes, rivers and the coast of Maine.

Please contact Terri Vieira, Chief Operating Officer at 1-207-487-4032 or email Terri at tlvieira@emh.org.
05/28/11
[return to top]