February 25, 2019
Tools
Print-Friendly Article
Print-Friendly Newsletter
Forward to a Friend
Forward Article
Email Version
Text-only Version
| | |
| --- | --- |
| Follow Us: | |
MMA Pursues Prior Authorization Reform in 129th Maine Legislature
The MMA members have spoken loudly about their frustration with the burden of commercial health insurance carriers' prior authorization processes. MMA board members and staff have heard these complaints at a MMA event at the Lucerne Inn in 2015 and at MMA events since.
The MMA tried to address this issue through legislation in the 128th Maine Legislature (L.D. 1032) and the bill passed the legislature but was vetoed by Governor LePage. Senator Gratwick has been a strong advocate for physicians on this issue and his physician colleagues in the 129th Maine Legislature - Senators Linda Sanborn, M.D. and Ned Claxton, M.D., and Representatives Patricia Hymanson, M.D. and Heidi Brooks, M.D. - want to help address it.
Senator Gratwick's bill before the current legislature is L.D. 705, An Act Regarding the Process for Obtaining Prior Authorization for Health Insurance Purposes, has now been printed and referred to the Health Coverage, Insurance & Financial Services Committee where a public hearing will be scheduled soon. This will be a great opportunity for you to be heard on this issue! If you are willing to share your experiences with prior authorization, either in live testimony at the public hearing on the bill or in writing, please contact Andrew MacLean, Interim CEO, at amaclean@mainemed.com or by cell phone at 215-7462.
The MMA surveyed the membership on this issue late last year and the results of that survey are posted on the MMA web site: https://www.mainemed.com/sites/default/files/content/MMA%20Membership%20Survey%20Prior%20Authorization.pdf.
If you would like to reach out directly to members of the HCIFS Committee, you can find the Committee members and their contact information on the legislature's web site: http://www.legislature.maine.gov/committee/#Committees/HCIFS.
The AMA continues to place a high priority on prior authorization (PA) reform advocacy, as evidenced by activities at two recent conferences. At its National Advocacy Conference, the AMA unveiled "Prior Authorization Hurts Patients," a powerful new video that features patient and physician testimonials about PA heartaches and hardships. The video captures the patient harms, care disruptions and delays, and interference with clinical decision-making associated with PA and urges viewers to join the AMA's grassroots campaign by engaging through its online hub, FixPriorAuth.org. Site visitors can share their PA story, sign a petition to Congress for PA reform and access a variety of PA-related resources. To date, the FixPriorAuth campaign has gathered over 500 patient and physician stories, collected more than 89,000 petition signatures and generated over 8,100,000 social media impressions.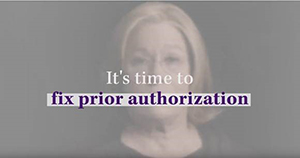 At its National Advocacy Conference, the AMA unveiled "Prior Authorization Hurts Patients," a powerful new video.

The AMA also shared its PA reform efforts at the 2019 Health Information and Management Systems Society (HIMSS) conference in Orlando, Florida. In a well-attended educational session titled, "Leveraging Technology to Improve Prior Authorization," the AMA presented newly released PA physician survey results that clearly establish the impact of PA on both patients and physicians, and explored how technology can support implementation and operationalization of the critical, wide-ranging PA reforms outlined in the Consensus Statement on Improving the Prior Authorization Process. The session also highlighted the AMA's efforts to inform physicians about the advantages of prescription drug electronic PA through a three-part educational video series.

The AMA's resources on the PA issue are excellent and will help you in your advocacy with legislators.
Next Article >

[ return to top ]